Sumner Redstone Says He No Longer Trusts Viacom CEO or Board
by
Redstone sends message to Viacom lead director Fred Salerno

Salerno had requested meeting with 93-year-old billionaire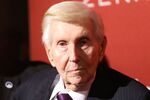 Billionaire Sumner Redstone said he doesn't trust Viacom Inc. Chief Executive Officer Philippe Dauman or the the media giant's board to act in the best interests of the company.
The comments from Redstone, Viacom's controlling shareholder, came Wednesday in a written rebuke to lead independent director Fred Salerno. Salerno had written Redstone a letter asking for a meeting and requesting that the 93-year-old mogul let Viacom continue with the potential sale of Paramount Pictures. Redstone and Viacom's leadership have been feuding in public and in court.
"I reviewed your note. I no longer trust Philippe or those who support him," Redstone wrote to Salerno. "I am being sued by my fellow board members and my wishes are being ignored. I am determined to act in the best interests of the company and all of its shareholders. I do not trust you or the current board to do the same."
People speaking on behalf of Redstone have listed his opposition to a Paramount sale as a reason he removed Dauman and director George Abrams from the board of his holding company, National Amusements Inc., and the family trust that will govern his assets when he dies or is incapacitated. Sumner Redstone had supported Dauman prior to that point, unlike his daughter Shari Redstone, a frequent critic of her father's former lawyer.
Dauman has questioned Redstone's competency, and said his long-time mentor is being manipulated by Shari. This latest missive, sent by a spokesman for Redstone, didn't put Salerno's concerns to rest.
"We could clear a lot of this up if Sumner would share his thoughts with me face-to-face," Salerno said in an e-mailed statement.
Before it's here, it's on the Bloomberg Terminal.
LEARN MORE