Societe Generale: A Not-So-Great Rotation Could Fuel a Correction in Stocks
by and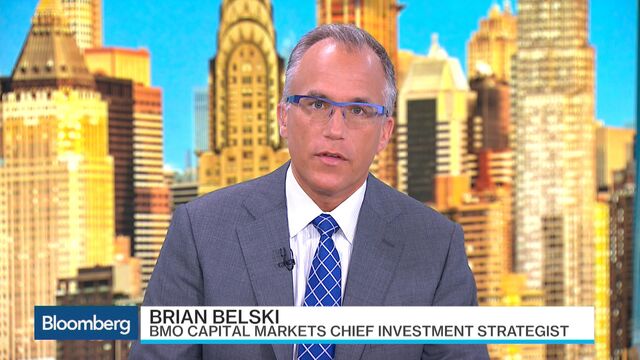 The past few days have been rough for the S&P 500, but analysts at Societe Generale SA think things could get much worse.
A drop in the equity risk premium — or the excess return that investing in stocks provides over the risk-free U.S. Treasury rate — could have big ramifications across a number of markets, according to a team of strategists led by Head of Asset Allocation Alain Bokobza.
The stock market's internal rate of return and relatively high valuation suggests that investors shouldn't expect blockbuster gains, so the biggest reason why the equity risk premium lingers near its historical average is because Treasury yields remain stubbornly low.

Analysts are currently calling for double-digit earnings growth in 2017 and 2018. While there's good reason to expect a near-term trough in earnings thanks to the rise in oil prices boosting the energy sector and pause in the dollar rally helping overseas sales, these consensus estimates have a habit of being revised lower the closer it gets to showtime. 
If these earnings estimates are trimmed so much that they imply no earnings growth in those years and the 10-year Treasury yield rises to 2.25 percent, this would trigger a fall in the equity risk premium to a level one standard deviation below its historical average, which typically bodes ill for stocks.
"Optimistic consensus earnings growth estimates and low U.S. Treasury yields have been supporting U.S. equity markets," concludes SocGen. "In the past — except for the 2000- 2003 period — a move in the U.S. equity risk premium of one standard deviation below the average level has triggered a 10 percent to 30 percent market correction."  

Some strategists have been calling for a "Great Rotation" from bonds into stocks as memories of the financial crisis fade and investors' tolerance for risk increased. However, if the equity risk premium collapses due to the reasons SocGen expects, this scenario would entail a re-allocation into government bonds and out of equities.
In such an environment, there'd be nowhere to hide for traditional 60/40 portfolios, which split investments into 60 percent equity and 40 percent fixed income. Such portfolios would likely fare particularly poorly as both bonds and equities weakened in tandem. Bokobza and team expect U.S. equity markets to trade flat to negative over the next three years.
SocGen isn't the only firm that is less than optimistic about U.S. equities. Goldman Sachs Group Inc. has argued there's an elevated risk of a sell-off in stocks, while Wall Street's average year-end target for the S&P 500 is 2,154 —just 3.8 percent higher than where it closed yesterday. 
Before it's here, it's on the Bloomberg Terminal.
LEARN MORE