Putin Wants to Get Back to Business With the EU
By , , and
EU's Juncker at St. Petersburg event; Italy's Renzi to attend

Sanctions set to be extended for six months amid resistance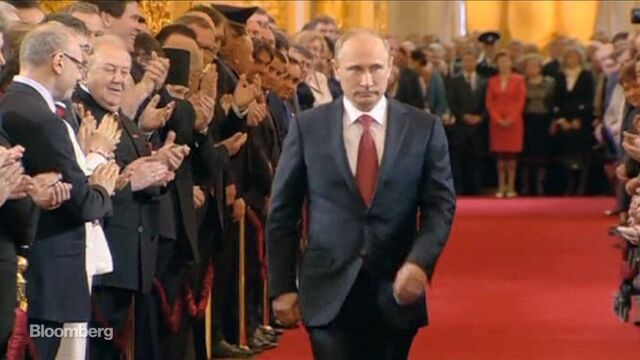 Russian President Vladimir Putin has a message for the European Union: let's put the Ukraine conflict behind us and get back to business.
The president will use his annual address at the St. Petersburg International Economic Forum to call for normalizing ties between the world's biggest energy exporter and largest trading bloc, though he'll stop short of offering concessions on Ukraine, according to three officials with knowledge of the preparations, who asked to remain unidentified to discuss confidential information. Attendees at the country's showpiece investor event will include Italian Prime Minister Matteo Renzi and European Commission President Jean-Claude Juncker.
Punitive measures introduced by the U.S. and the EU as a response to Russia's role in the Ukrainian conflict -- along with the collapse of commodity prices -- triggered the country's longest recession in two decades. While Russia doesn't expect any rapid progress on lifting the sanctions, Putin is hopeful there is light at the end of the tunnel, two officials said.
"There are a whole number of capitals in Europe that are itching to get back to some form of business as usual and the Russian side has spotted this sentiment very well and is rolling out a very smart diplomacy of slicing EU unity," Joerg Forbrig, senior program director of the German Marshall Fund of the U.S. in Berlin, said by phone.
Increasing Resistance
The EU sanctions, which are set to lapse on July 31 and require a unanimous vote to be prolonged, will be extended for another six months, according to European officials.
For a guide to Russia's relations with the U.S. and its allies, click here.
Germany, which played a leading role in rallying the 28-member bloc behind the sanctions, said last month there is increasing resistance to the measures, which have cost European exporters billions of euros in revenue because of Russia's retaliatory ban on EU food products. In the U.S., where President Barack Obama will leave office in January, Republican candidate Donald Trump has argued for steps to resolve differences with Russia.
Former French President Nicolas Sarkozy on Thursday urged Putin to take the first step by starting to remove retaliatory barriers Russia imposed against food imports from the EU. Sarkozy, who may run in his country's presidential elections in 2017, met the Russian leader on the eve of the forum.
The government in Moscow isn't considering lifting the ban yet as the first step should be taken by those who initiated the sanctions, Economy Minister Alexei Ulyukayev told reporters at the same event.
No Concessions
Asked by Bloomberg whether Putin is planning to offer to normalize ties with the U.S. and the EU, his spokesman Dmitry Peskov replied: "This is his constant message! It mostly falls on deaf ears."
Putin doesn't plan to offer any concessions to unlock the stalled Ukraine peace process, which has so far held up the easing of sanctions, the officials said. He will instead focus on opportunities in Russia for foreign business and predict a brighter economic climate with stable reserves, low inflation, an economic growth target of 4 percent and a commitment to cutting the budget deficit.
The Russian central bank, which last week cut the key interest rate for the first time in almost a year, said the economy is approaching "imminent growth recovery," predicting gross domestic product will advance as much as 1.4 percent in 2017 and 2 percent in 2018. The International Monetary Fund last month forecast a "subdued" medium-term recovery, putting the nation's long-term economic growth at 1.5 percent a year.
Putin's Pledges
Putin, as in previous years at the St. Petersburg forum, will reaffirm a commitment to improving the business climate through reducing dependence on oil and gas, improving productivity and the rule of law, help for small and medium-sized business and developing the technology industry, the three officials said.
Those pledges have faded to the background in recent years. As long as they remain unfulfilled, efforts to raise growth significantly will fail, according to the IMF, which forecasts a weak oil price outlook in the medium-term.
Pipeline Plans
Still, in a sign of the EU also having an interest in getting back to business, Juncker may discuss with Putin ways to move ahead a project to double the capacity of the Nord Stream pipeline which carries Russian gas to Germany. While the issue has divided EU countries concerned about the bloc's energy dependence on Russia and the Kremlin's meddling in Ukraine, Germany would benefit from the greater capacity of the direct energy route.
In a change in policy, German Foreign Minister Frank-Walter Steinmeier on May 31 advocated a possible easing of EU sanctions against Russia even before a peace plan for eastern Ukraine is fully implemented. If there is "substantial progress" with last year's Franco-German brokered Minsk peace agreement, Germany could consider withdrawing the sanctions "step-by-step," Steinmeier told foreign reporters in Berlin.
EU-Russia relations aren't broken beyond repair and can be mended, Juncker told the forum on Thursday, before meeting Putin. He called for the full implementation of the Minsk accord.
"This is the only way to begin our conversation, and the only way to lift the economic sanctions that have been imposed," Juncker said.
'Very Pleased'
As he met Juncker, Putin said he was "very pleased" to see the Commission chief at the forum. The EU official replied that he had come to Russia because he wanted to.
"Some people didn't like the idea but I like the idea," Juncker said. "Because it's exactly when we have problems between us that we need to be able to talk to each other."
By the end of the year, unless there is an escalation in Ukraine, where pro-Russian rebels are locked in an uneasy standoff with Ukrainian government forces, it's likely there will be a move to start easing EU sanctions, according to the German Marshall Fund's Forbrig.
Russia won't lobby for the removal of the EU and U.S. measures, which have curbed the country's access to international financial markets and energy technology, Yuri Ushakov, Putin's foreign policy adviser, told reporters on June 14.
"But when they are ready to do it, we'll welcome it and without a doubt will respond by canceling the measures we adopted in response," Ushakov said.