Pakistan Stocks Jump Most in a Year as MSCI Seen Luring Cash
by
Nation's share market is already Asia's best performer in 2016

Expect outperformance from Pakistan equities: EFG Hermes
Pakistani stocks jumped the most in a year on the prospect of hundreds of millions of dollars being lured to the market after MSCI Inc. said it would include the nation's equities in its emerging-markets index.
Asia's best-performing share market of 2016 could attract about $220 million of inflows, JPMorgan Chase & Co. said in a note following MSCI's decision late Tuesday in New York. BMA Capital Management Ltd. sees Pakistan luring $300 million to $400 million in the first year, while EFG Hermes Holding SAE said last month that an upgrade could attract around $475 million by mid-2017.
"When there is an upgrade, a lot of investors see passive inflows as an opportunity to basically reposition and benefit from the outperformance of the market," Mohamed Al Hajj, an equity strategist at EFG Hermes in Dubai, said on Wednesday. "The market tends to perform strongly until implementation. You should expect outperformance from Pakistan as well."
The South Asian nation was downgraded to frontier status by MSCI in 2008 when the Karachi Stock Exchange paralyzed the market by setting an index floor to stop a plunge after then military ruler Pervez Musharraf left office to avoid impeachment. Prime Minister Nawaz Sharif has boosted economic growth in recent years and achieved relative stability through an International Monetary Fund loan program that averted an external payments crisis in 2013.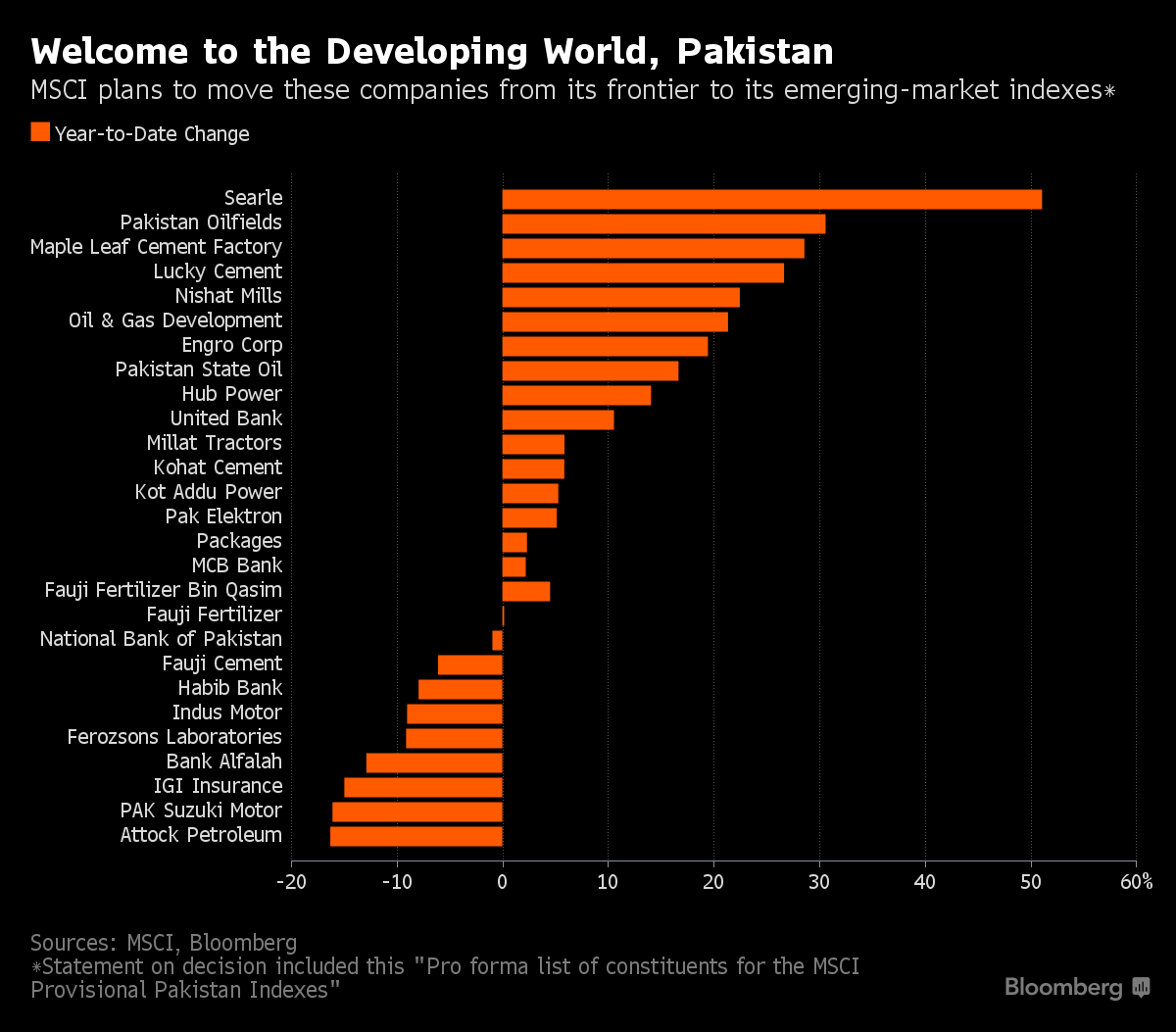 The Karachi Stock Exchange KSE100 Index rose 2.7 percent, the most since March 2015, to close at a record high. Habib Bank Ltd., MCB Bank Ltd., Lucky Cement Ltd. and Hub Power Company Ltd. jumped by the daily limit of 5 percent. Pakistan stocks are up 17 percent this year, compared with a 1.6 percent advance in the MSCI Emerging Markets Index.
"This achievement is the result of macroeconomic stability, economic reforms and good governance by the incumbent government," Finance Minister Ishaq Dar said in an e-mailed statement. "The new status of emerging market will help Pakistan to attract maximum foreign investment."
The United Arab Emirates and Qatar -- the last two countries to be promoted to emerging-market status by MSCI -- saw their benchmark share gauges jump by at least a third in the 12 months following their addition in June 2013. The impact of the MSCI move hasn't been priced into the market yet, said Muhammad Asim, chief investment officer at MCB-Arif Habib Savings & Investments Ltd. in Karachi.
The index provider said the MSCI Pakistan Index will be reclassified from a frontier market at its May 2017 semi-annual index review. The nation will get a 0.14 percent weighting in MSCI's Emerging Markets Index, JPMorgan said in the note. Among the companies MSCI plans to move to its emerging-markets indexes are drug maker Searle Co., Pakistan Oilfields Ltd. and Maple Leaf Cement Factory Ltd., up 29 percent. The three stocks closed up 5 percent, 2.9 percent and 5 percent on Wednesday.

Valuations on Pakistani stocks have fallen over the past year, and an upgrade could spur a rally, Mattias Martinsson, the Stockholm-based chief investment officer at Tundra Fonder, which holds $200 million of Pakistani equities, said before the announcement. Frontier-market funds are likely to keep much of their exposure to Pakistan even if it regains emerging-market status, EFG Hermes said in a report last month.
"Pakistan is a decent story with global economies slowing," said Sajjad Anwar, the Karachi-based chief investment officer at NBP Fullerton Asset Management Ltd., which oversees 55 billion rupees ($526 million). "We're expecting decent flows coming in from many funds and frontier funds to continue investment. "
Before it's here, it's on the Bloomberg Terminal.
LEARN MORE