MSCI Chinese Stocks Denial Extends Hong Kong Gateway Appeal
by
Former British colony's decades-old role remains intact

Stock link to Shenzhen wouldn't fully solve access issue: MSCI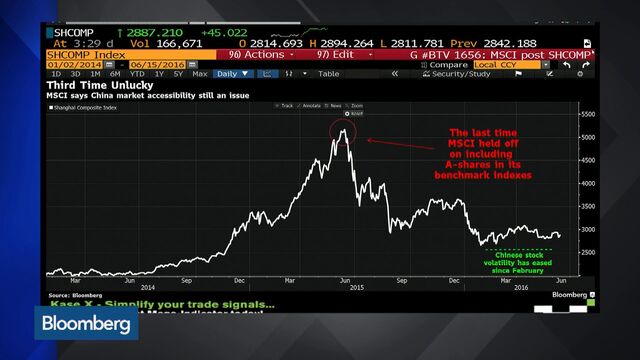 Hong Kong's appeal to international investors as a bridge to the mainland got a boost from MSCI Inc.'s decision not to add Chinese stocks to its global indexes.
MSCI on Tuesday denied inclusion of mainland-listed companies for a third time, citing the need to expand investor access to the world's second-largest economy. That's good news for a city that has benefited for decades from its role as the gateway to the world's most populous nation.
"Hong Kong will continue to maintain its position as the access point for anybody looking to trade in China," said Neil McLean, head of trading for Asia ex-Japan at Instinet Pacific Services Ltd. in Hong Kong.
Hong Kong has the advantage of being part of China but keeping a legal system rooted in English common law, an enticing combination for international businesses seeking to access the country. The city's stock exchange has become the most popular non-mainland choice for Chinese companies looking to go public, while Hong Kong is home to the largest pool of offshore yuan deposits.
China's authorities had been pushing hard for MSCI inclusion, recently introducing improvements to its markets to address issues of stock halts and cross-border capital flow restrictions. In explaining its rejection, MSCI cited the need for additional improvements in the accessibility of the mainland market. The index compiler pointed to a monthly repatriation limit of 20 percent as a "significant hurdle" for investors such as mutual funds faced with redemptions.
"There are still barriers that need to be addressed," said Ben Valentine, the head of pan-Asia electronic execution at Citigroup Inc. in Hong Kong. "The market shouldn't be surprised by this announcement."
For a QuickTake guide to China's overhaul of its financial system, click here.
Despite Tuesday's decision, international investors believe MSCI will eventually add China's mainland shares to its global indexes. BlackRock Inc. said in a statement after the MSCI announcement that it welcomes the progressive reforms made in the country's markets over the past year, and looks forward to developing its operations and business in China.
Hong Kong's Hang Seng Index rose 0.4 percent Wednesday to close at 20,467.52. Hong Kong Exchanges & Clearing Ltd. was the fourth worst performer in the index after dropping 1 percent to HK$181.50.
Stock Connect
MSCI's decision came as regulators in Hong Kong and Beijing have been planning a second stock trading link between the city and the mainland, to the southern city of Shenzhen.
Global investors would be interested in gaining access to Shenzhen, a market that sees more liquidity on a daily basis than Taiwan trades in a month, according to David Rabinowitz, head of electronic trading and market structure for Asian equities at UBS Group AG. Allowing onshore investors to trade small market capitalization companies in Hong Kong would be a significant enhancement, he said.
While the link would be a positive development, it wouldn't completely resolve the issue of restricted access to Chinese markets, Remy Briand, MSCI's global head of research, said in a conference call after the company's decision was announced.
Before it's here, it's on the Bloomberg Terminal.
LEARN MORE