MSCI's China Inclusion at Risk of Stalemate on Control Issue
Bloomberg News
Policy makers wary on loosening amid fund outflow pressures

Some analysts say inclusion possible without more changes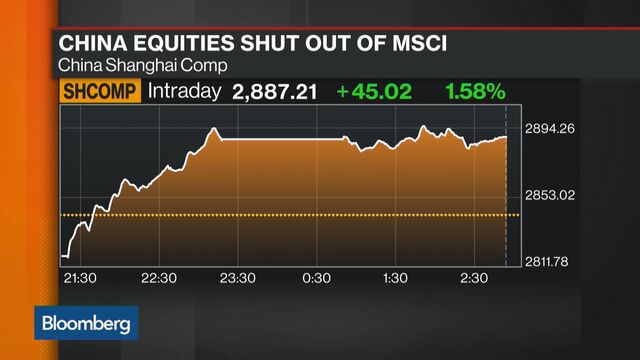 For China, the final hurdles to MSCI Inc. inclusion may also be the highest.
Foreign investor concern over a monthly cash withdrawal limit was among the index compiler's reasons for refusing to accept domestic Chinese equities into its benchmark gauges this week. MSCI also urged China to follow through on pledges to ease curbs on cross-border flows and stop companies from halting shares when the market tumbles. Faced with weak economic growth and the prospect of higher U.S. interest rates, authorities are unlikely to drop capital controls anytime soon, according to brokers in Asia.
QuickTake China's Market Meddling
"It's rare, even though not impossible, for a country to further open its capital account when growth is slowing and funds want to leave," said Zhang Yu, a Beijing-based analyst at Minsheng Securities Co. She called it "an issue much larger than the stock market. The government takes a long-term view on it, in phases of five to 10 years."
That suggests the potential for a stalemate between MSCI and the Chinese authorities after a concerted campaign to win inclusion failed. For Zhang Haidong, chief strategist at Jinkuang Investment Management in Shanghai, concerns around capital controls and market accessibility will be tough to overcome.
"We are still not a free market," Zhang said. "These issues aren't likely to be addressed properly in the short term as that's all about easing controls on capital controls. So inclusion in MSCI's indexes may not come soon."

China has been trying to address MSCI's concerns. In February, it changed regulations to allow qualified traders to shift money in and out of the country on a daily basis, while in May domestic stock exchanges published rules restricting trading halts. Investors need time to assess the effectiveness of the changes, MSCI said.
Some observers argue that China can gain entry in the next 12 months without too much trouble. Wang Ren, a fund manager with QingShuiYuan Investment in Beijing, said the inclusion decision is not solely rule-based, pointing out that Pakistan was granted entry on Tuesday with a market much less mature than China's.
"MSCI's decision is a reflection of the demands of the investors that buy its indices," Wang said in a phone interview. He speculated that China's depressed markets were a key reason money managers have been against inclusion.
The Shanghai Composite Index is down 41 percent over the past year. The index was little changed Thursday, though it rallied 1.6 percent on Wednesday amid speculation state-backed funds were supporting the market after MSCI's decision.
To read a QuickTake Q&A on the issue of MSCI's inclusion of China, click here.
Fund repatriations and market access are technical issues that authorities can address without adding risks to the wider economy, said Lu Wenjie, a Shanghai-based China equity strategist with UBS Group AG.
Significant Hurdle
MSCI said in a statement that a large number of market participants pointed to issues surrounding the China's monthly repatriation limit of 20 percent, calling it a "significant hurdle."
"This limit poses a potential liquidity concern for investors who need to honor redemption outflows from their clients, and thus must be removed or substantially increased with a shorter repatriation horizon," MSCI said.
Chinese leaders have long pledged to pursue full capital account convertibility, allowing cash to freely flow across the nation's borders. It's widely deemed as a prerequisite for President Xi Jinping's efforts to raise the profile of mainland markets and turn the yuan into an international currency, but authorities have so far only taken small steps. Investors still face lengthy government reviews in many types of cross-border transactions, whether in financial markets or through direct investments.
"Our view is that it is difficult to cater to the MSCI request," Iris Pang, a Hong Kong-based senior economist at Natixis, said in an e-mail.
— With assistance by Gary Gao
Before it's here, it's on the Bloomberg Terminal.
LEARN MORE