MSCI's China Stock Call Disappoints Goldman, Surprises Citigroup
By and
Goldman said last month odds of stock inclusion were 70%

HSBC says underestimated resistance of global investors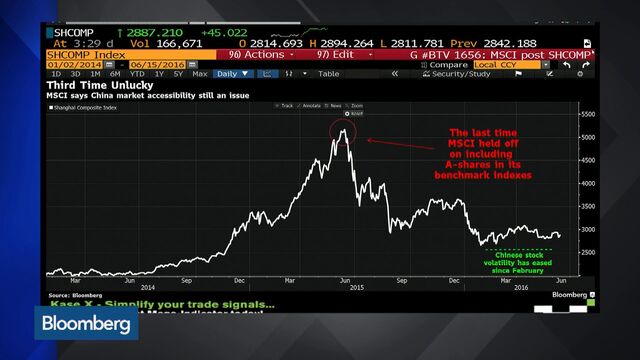 MSCI Inc. just dealt a blow to China -- and to stock analysts at some of the world's biggest banks.
Strategists at Goldman Sachs Group Inc. and Citigroup Inc. said on Wednesday they were surprised after MSCI decided against adding mainland equities to global benchmark indexes. Goldman Sachs had put the chance of approval at 70 percent.
"It's definitely a disappointment," said Kinger Lau, a Hong Kong-based strategist at the bank. "I had pretty high expectations because the direction in terms of how the Chinese government has addressed concerns raised by MSCI was very positive."
While Chinese authorities rolled out a number of measures to meet the requirements of MSCI, including curbs on arbitrary trading halts and looser restrictions on cross-border capital flow, the index compiler said Tuesday investors needed time to assess the effectiveness of such policy changes and further improvements are needed. Since last year's review, China's commitment to opening up the world's second-largest stock market was tested by a $5 trillion rout that spurred unprecedented intervention.
Negative Surprise
"We underestimated the resistance from the global investment community on the A-share inclusion issue," Steven Sun, head of Hong Kong and China equity research at HSBC, wrote in a note. "It is a negative surprise, but we believe every delay increases the probability of a positive decision at the next review, which may happen before next June."
MSCI, whose emerging-market index is tracked by investors with $1.5 trillion in assets, said it will reconsider inclusion in its 2017 market classification review, while not ruling out an earlier announcement.
"Sigh!" wrote Citigroup, which said it was disappointed in a note Wednesday. The bank had predicted a 51 percent chance of a positive decision.
While all three banks said the longer-term impact will be limited -- with HSBC estimating inclusion would spur inflows of as much as $30 billion, barely more than the average daily turnover of $24 billion on Shanghai's bourse in the past month -- Goldman Sachs and Citi predicted the unexpected rejection would damp enthusiasm toward mainland equities after investors increased bets that MSCI would add the shares.
Inflows Jump
Exchange-traded funds that invest in equity and debt securities traded on mainland exchanges and in Hong Kong posted inflows of $387 million last week, the most since March, data compiled by Bloomberg show. The iShares China Large-Cap ETF, which owns the country's 50 largest companies by market value, grew for the first time this year as short interest declined from a 2014 high.
The Shanghai Composite Index fell as much as 1.1 percent on Wednesday, before reversing the drop to jump 1.6 percent at the close amid speculation the authorities were propping up stocks to save face. The gauge is still down 18 percent this year.
"A shares' inclusion has been perceived as one of the catalysts that has led some inflows to the market," Lau said. "It's a symbolic move rather than a significant event for valuation or liquidity. In the short term, it's quite cautious because flows that have gone in to pre-position before the event may come back out. We are neutral on China."