Momentum Trade Is Still On in Anxiety-Ridden European Stocks
by and
Shares including Glencore, Morrison up at least 19% this year

Strategy has also beaten those on value, high dividend yield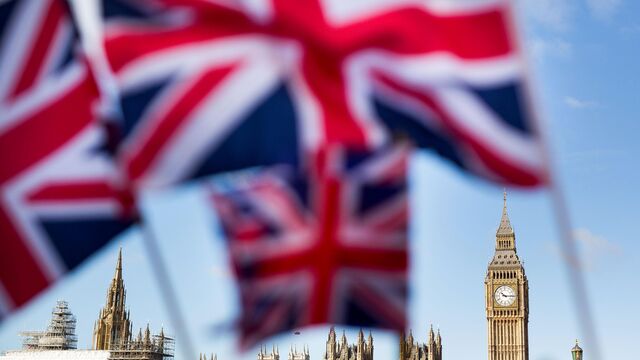 In Europe's turbulent market, traders who clung to the adage "the trend is your friend" have fared better than those who didn't.
As anxiety grows over a potential Brexit, Spain's elections and a slowing regional economy, momentum stocks in Europe are limiting losses for investors in a year in which as much as $922 billion has been erased from the region's equities. A measure of such shares, defined as those showing the biggest gains in the recent past, has fallen less than half as much as the Stoxx Europe 600 Index.
The strategy has held up mainly because consumer firms such as Wm Morrison Supermarkets Plc and commodity producers including Glencore Plc, which dominate the iStoxx Europe Momentum Factor Index, have been among the best performers in Europe this year. That's despite lackluster earnings and a murky global economic outlook.
"The European picture is less clear, more patchy, and hence following the momentum is in many cases the only way to take investment decisions," said Anthony Peters, a London-based strategist at Sol Capital Markets. "If you have so much uncertainty, your only chance is to jump on the market whatever way it's going. It's not healthy but if it works, who cares?"

Polls indicating a lead for the "Leave" campaign before Britain's June 23 referendum, and a general election in Spain three days after that, have clouded the outlook for European stocks. Exacerbating it is skepticism about the European Central Bank's ability to stimulate growth, with the euro area forecast to expand at a slower pace this year and inflation that's barely picked up.
For the latest on where Brexit campaigns stand, click here.
While this plethora of woes has sent risky assets tumbling across the region in 2016, the iStoxx gauge has held up better, down 5.3 percent versus a 12 percent slide in the Stoxx 600. The momentum index has beaten the benchmark every year since its inception more than a decade ago.
This year, it has also outperformed MSCI Inc.'s Europe indexes tracking value, low volatility, high dividend yield and equal-weighted shares, as well as the iStoxx Europe Size Factor Index targeting stocks with low market or enterprise values. Members including Glencore and Morrison have jumped 19 percent or more, while Finnish oil refiner Neste Oyj has advanced 7.9 percent. The Stoxx 600 fell 0.8 percent at 11:41 a.m. in London.
The investment approach, which was popular among American hedge funds in recent years, is not without risks. A Dow Jones index tracking the 200 highest momentum stocks in the U.S. while betting against the 200 lowest tumbled 8.1 percent in the first quarter, its worst performance since 2009, following its biggest annual gain in eight years. Some analysts say the strategy's popularity created a herding effect that was doomed to blow up, while also stretching valuations.
Still, evidence of a bull market is starting to build among U.S. momentum stocks. The degree to which share prices are rising relative to their longer-term history is flashing a buy signal for the first time since 2009.
In Europe, there are few investment alternatives left. The ECB's stimulus, which included corporate-debt purchases starting this month, and a weak economic outlook have slashed bond yields, with those on German 10-year bunds falling below zero for the first time on record. At the same time, investors' cash levels have risen to an almost 15-year high.
"There's still so much uncertainty about Europe's economy, emerging markets, U.S. interest rates and even geopolitical concerns in the euro zone," Philippe Gijsels, the chief strategy officer of BNP Paribas Fortis in Brussels, said by phone. "You have all this uncertainty but also massive amounts of money and you're faced with the obligation to invest. It's no wonder that momentum stocks are doing better."
Before it's here, it's on the Bloomberg Terminal.
LEARN MORE