Milken's Former Manager Raises $500 Million for New Credit Fund
by
Carl Meyer formed Silver Rock Financial LP to manage new fund

Milken said to contribute several hundred million in seed cash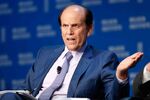 The former head of Michael Milken's family office raised more than $500 million in less than a month for a new hedge fund that will target high-yield bonds and distressed debt.
The Silver Rock Onshore Opportunistic Credit Fund is part of an effort by Carl Meyer, the ex-chief investment officer for the Milken family office, to start his own money-management firm. Meyer's new firm, Silver Rock Financial LP, registered as an investment adviser with the U.S. Securities and Exchange Commission in March.
Milken, who turns 70 next month, doesn't have any ownership in the new firm, nor is he involved in its management, according to the SEC filing. Meyer no longer has any connection to the family office, according to a Milken spokesman, other than sharing an almost identical name. The Milken family office was set up in March 2009 as Silver Rock Financial LLC.
Neither Meyer nor Michael Skarda, the chief compliance officer for the new firm, returned multiple telephone calls seeking comment.
The Wall Street Journal reported Wednesday that Milken would seed Silver Rock's funds with several hundred million dollars of his own money. Milken's investment will be seen as an endorsement, the Journal reported, saying his association with Silver Rock had contributed to at least one large firm's decision to contact the hedge fund about making an investment.
Sharing Views


Milken has been closely involved in trading decisions made on his behalf at the family office and sometimes spoke with Meyer and his team several times a day, the newspaper reported, citing unidentified people close to the matter. Milken will continue to have regular conversations with executives about how they invest his money, his spokesman said. Silver Rock had been based in the same Santa Monica, California, building as Milken's office and foundation, according to the Journal, but executives leased new space in Los Angeles when they formed an independent entity in late March.
Milken, the former junk-bond chief at Drexel Burnham Lambert Inc. who was barred from money management after pleading guilty to securities violations, now runs his own research institute and focuses on philanthropy. Milken's personal fortune, estimated at $2.5 billion by Forbes, is managed by several dozen outside firms as well as the family office, according to his spokesman.
Silver Rock Onshore began raising money on May 1, according to a private-placement notice filed with the SEC two weeks later. As of May 17, it had gathered $506.2 million from 17 investors, at least one of whom paid for their stake by contributing securities to the fund rather than cash.
Meyer also set up an offshore version of the credit opportunity fund in the Cayman Islands in late May, according to the fund registry maintained by the Cayman Islands Monetary Authority. That would permit the firm to raise additional capital from foreign investors as well as U.S. institutions that are tax-exempt, such as foundations, pension funds and university endowments.
Value Strategy
In its SEC registration, the firm calls itself a "value-oriented, opportunistic, credit-focused investment manager," adding that its strategy will be "underpinned by downside protection." In addition to bonds, it will invest in bank loans, equities, trade claims and credit default swaps.
Meyer joined the family office in 2010 after spending almost two decades at Citigroup Inc., where he ran high-yield and distressed-debt businesses, according to the Milken Institute's website.
After pleading guilty in 1990 to violations of securities laws, Milken served 22 months in prison and paid about $1 billion to settle government civil and criminal suits as well as investor complaints. Under terms of a regulatory settlement with the SEC, Milken was permanently barred from serving as a broker or investment adviser.
Before it's here, it's on the Bloomberg Terminal.
LEARN MORE