pursuits
Leon Black Wins Picasso's 'Bust of a Woman' as Legal Drama Ends
By
International battle involved a member of Qatar royal family

Gagosian Gallery claimed it bought the work for $106 million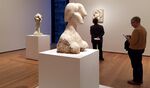 The international legal drama over a Pablo Picasso sculpture is officially over -- and the disputed 1931 plaster "Bust of a Woman" will become a new trophy of billionaire Leon Black, both sides in New York litigation said.
The case was settled last month, but the new owner of the work was undisclosed until Wednesday. The legal battle over Picasso's sculpture of his former lover Marie-Therese Walter pitted two of the world's biggest art buyers -- Black and a member of Qatar's royal family -- against each other. 

The artwork was for years a prized possession of Maya Widmaier Picasso, a daughter born of the artist's affair with Walter. Art gallery owner Larry Gagosian said he agreed to buy the sculpture for $106 million last year to resell it to Black.
Gagosian's deal was jeopardized by a claim from Pelham Europe Ltd, an agent for Sheikh Jassim bin Abdul Aziz Al-Thani and the Qatar Museums Authority, who said they struck a deal in 2014 to purchase the work for 38 million euros ($40.5 million) from Widmaier Picasso in a transaction negotiated by her son.
The two sides filed competing lawsuits this year in Manhattan federal court.
"We are pleased that the dispute between the Picassos and Pelham has been settled and Mr. Black will receive his sculpture," the gallery said in a statement on Wednesday. "Today's settlement shows without question that the Gagosian Gallery purchased and sold this sculpture in good faith and without any knowledge of Picasso and Pelham's prior dealings, as we have said all along. Today is a complete vindication of the Gallery's position."
Widmaier Picasso paid Pelham an undisclosed price as part of the settlement, according to Jo Backer Laird, an attorney for Pelham at Patterson Belknap Webb & Tyler.
"The amount of the payment is confidential, but Pelham and its client are very happy with the settlement," Laird said in a statement.
All parties to the litigation issued this statement Wednesday:
"Pelham Europe Ltd., Maya Widmaier-Ruiz Picasso, Diana Widmaier Picasso, Gagosian Gallery, Inc., Lawrence Gagosian, Leon Black, and Seydoux & Associes Fine Art SA are pleased to report that the parties have reached a good faith global settlement resolving all matters and actions relating to Pablo Picasso's Buste de Femme (Marie-Therese), Boisgeloup, 1931."
Before it's here, it's on the Bloomberg Terminal.
LEARN MORE