Source: Four Seasons Resort Serengeti
Spend
How to Ruin Father's Day From Now On
These seven last-minute gifts for dad are so over-the-top, you'll never be able to do better in the future.
by
Selecting the perfect gift for dad isn't easy. He tells you he doesn't want anything and insists you don't spend a dime—but if you concede to his wishes, you always feel bad afterward.
Never again. This year, why not get him something so incredible you will still talk about it for every Father's Day to come? These seven ultra-lavish gifts will impress your dad and every other dad he knows.   
A Three-Day Track Driving Experience With a Le Mans Champion

About: If your dad likes speed and hot wheels, this is the ultimate gift. Primland, a luxury Blue ridge mountain resort in Virginia,  is offering a three-day trip with nine-time Le Mans winner and motor racing legend Tom Kristensen and elite endurance competitor Harold Primat. The experience includes an intimate dinner with the hosts, a helicopter ride to the Virginia International Raceway where you will ride the course with the pros. You can also play a round of golf on the resort's acclaimed Highland Course, take a sporting clays class (read: an instructor-led shooting class), embark on four-wheeler or horseback trail rides, or get a spa treatment.
Price: $8,500 per participant and guest. 
Buy: Reservations may be made by calling 276 222-3800.
A Brioni Bespoke Suit 

About: Over the years, your dad has probably worn a lot of suits. But has he ever had one that was made specifically for his body by a legendary Italian label? If you set him up an appointment with one of Brioni's bespoke specialists in Rome or Paris, he will have an opportunity to design a suit from scratch. He'll select quality fabrics from mills all over the world, choose single or double-breasted, peak lapels or notch, and design flourishes such as buttons, liners, and stitching.  
Price: Starting at $8,000. 
Buy: At Brioni boutique stores worldwide.
An Extraordinary Experience With the Four Seasons Jet

About: 25 days, nine cities, one private jet; you and your dad, and a journey you'll never forget. Experience some of the world's most remarkable destinations on the custom-configured Four Seasons Private Jet. Stay in luxurious Four Seasons hotels along the way and enjoy five-star service throughout the trip. Highlights of the various itineraries include shipwreck diving in Egypt, a safari on the Serengeti, helicopter rides over Maui, and much more. 
Price: $137,000 per person, based on double occupancy.
Book: You can book online at fourseasons.com. 
A 1963 Jaguar E-Type 

About: Your dad will be the envy of every other father who sees him on the road in this incredible, mint-condition Jaguar E-Type coupe. It's hard to find one of these on the streets that is in as pristine condition, and there will be renewed interest in the model since Jaguar is planning on relaunching it with a modern interpretation.   
Price: To be determined at auction.  
Buy: Place your bid at bonhams.com.
A Weekend at the Gary Leffew Bull Riding School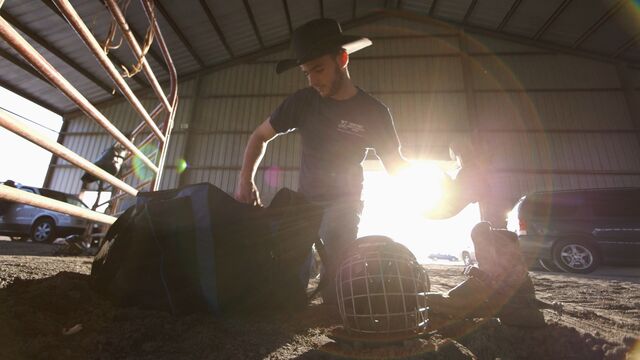 About: Watch this video. Imagine your dad doing this. (They won't let him die, we promise.) Legendary rodeo rider Gary Leffew can teach anyone, even pops, to ride a bucking bronco. And even if he comes out a little bruised, you can guarantee he'll never forget his weekend here. 
Price: $625 for three days.  
Buy: For more information visit leffewbullridingworld.com.
A Week at a Private Island 

About: This will be the ultimate luxury vacation that dad will never forget: a retreat to an 81-acre private island with six white sand beaches and a rain forest. Calivigny island, located off Grenada in the West Indies, offers 25 bedrooms and 25 bathrooms, and allows 50 people to sleep across five structures. The main beach house has 10 suites with Oscar de la Renta furnishings, a structure called the overhang house has nine suites and Christopher Guy interiors, and then there are three two-bedroom beach cottages. Previous guests have included Kanye West and Justin Bieber. 
Price: $118,000 per night.
Buy: For reservations visit lacurevillas.com.
An AirDog Auto Follow Drone

About: This AirDog drone, although not an actual dog, can be a man's best friend. It features an auto-follow option that is perfect for recording yourself playing outdoor spots so you can improve your form. It will trace you down the ski slope, around the lake if you are waterskiing, or even just hover at a clear angle when you're playing tennis.
Price: $1,599
Buy: available online at shop.airdog.com 
(
Corrects name of resort in "Track Driving Experience" section.
)
Before it's here, it's on the Bloomberg Terminal.
LEARN MORE