House to Vote on Curbing NSA Surveillance in Wake of Orlando
By
Massie amendment requires court orders for certain searches

Opponents argue it would prevent searches for Orlando shooter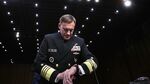 An internal Republican fight is emerging over an anti-surveillance amendment passed by the House each of the past two years, but which foes say must be defeated this year in light of the Orlando shootings.
The measure, sponsored by Representative Thomas Massie of Kentucky, would effectively prohibit the National Security Agency and other intelligence agencies from searching data collected incidentally on American citizens during surveillance of non-U.S. citizens outside of the country.
The House is set to vote on the provision Thursday as an amendment to the fiscal 2017 Defense Department spending bill, H.R. 5293, which is on the House floor.
The same amendment was passed last year by the House as part of the fiscal 2016 defense spending bill in a 255-174 vote across party lines. The previous year, it passed by a 293-123 vote. Both times, it was stripped out in negotiations with the Senate over a final bill that went to the president.
At issue is the amendment's prevention of queries or searches of information or communications collected under Section 702 of the Foreign Intelligence Surveillance Act, or FISA, without a warrant.
That FISA program is intended to focus on foreign terrorism suspects. But inevitably, information is collected about U.S. citizens in the course of this surveillance. Massie and Democratic co-sponsor Zoe Lofgren of California, and others, suggest Section 702 can be used as a "back-door" way to spy on U.S. citizens.
Opponents of Massie's amendment say it would prevent intelligence agencies from being able to query or search for someone by name in the Section 702 database, simply because he is an American citizen, to see what is known about him. 
They say the Orlando shooting amplifies the arguments for defeating the amendment, adding that neither the name of the Orlando shooter, Omar Mateen, or even the name of the Pulse nightclub could be queried if the provision had become law. While Mateen had expressed support for Islamic State and other terrorist groups, federal authorities haven't seen evidence that he was in touch with such organizations.
"Under the Massie amendment, intelligence professionals investigating the Orlando attack would be barred from searching information they've already lawfully collected to see if the shooter was in contact with foreign terror groups or if any foreign terrorists had discussed the Pulse nightclub before it was attacked," House Intelligence Chairman Devin Nunes of California said in a written statement. "At a time when jihadists are targeting Americans for mass murder, limiting the intelligence community's access to a crucial anti-terror tool is the last thing we can afford to do."
Massie argues there would be a process for obtaining a warrant that would better balance privacy concerns and national security.
"Our amendment in no way restricts the government's ability to collect and search information about terrorists," he said in a statement. "In keeping with the Constitution, it merely requires a warrant to search the database of information if the suspect is an American."
Opponents say his amendment -- billed as preventing "warrantless searches" -- is written in a way that there is no real process for getting such a warrant.