The Deepest Money Pit Atlantic City Has Ever Seen Re-Opens This Week
by and
Former Revel casino in Atlantic City to reopen minus gambling

New Jersey had pledged financial support before bankruptcies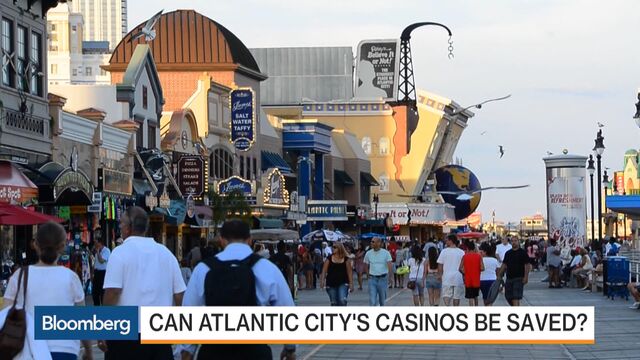 Up the Atlantic City boardwalk from the Trump Taj Mahal looms a $2.4 billion monument to grandiose dreams falling to grim realities.
Here, in the struggling seaside town where Donald Trump built and lost his casino empire, and where New Jersey Governor Chris Christie, his rival-turned-ally, now threatens to seize control, blight stretches for blocks.

But in a place inured to booms and busts -- where all three of Trump's casinos went bankrupt, one of them twice -- nothing has failed more spectacularly than Revel, the deepest money pit Atlantic City has ever seen. Initially financed by Morgan Stanley, the immense hotel-casino opened in 2012, with Beyoncé as its headliner. It closed two years later after two trips to bankruptcy court.
Which is why what is happening now just off Oriental Avenue might seem so surprising. As Atlantic City itself teeters on the financial precipice, once again a brash outsider is promising that Revel will transform the landscape.
Glenn Straub, a flamboyant entrepreneur from Florida, wants to turn Revel around, and he's offered up some pretty wild schemes to do it: a polo club, with the ponies stabled in the parking garage; water parks and rope courses; an indoor ski run; a cryotherapy chamber; a university that he has called a "tower of geniuses" to explore pressing world problems like nuclear waste disposal. The blackjack tables and roulette wheels will come later, he says.
Straub, 69, can try what he wants. A bankruptcy judge let him buy the place, all 6.3 million square feet of it, for $82 million. The idea is to open part of the Revel as early as this week, in what amounts to a soft launch.
That's the plan, anyway. About two weeks ago, in the fire-command station that doubles as a base of operations, a to-do list was sketched on a white board: remove mouse traps, repair sheetrock, finish "complete rebuild" of Room 2350.
"We're changing the entire property to something different from what it was," Straub says. "You have to have this place as a resort, which is 12 months of the year -- that's how we're building this facility as."
Grand plans are nothing new in Atlantic City. Developed as a resort in 1854, the place thrived during Prohibition, a period captured in the HBO series "Boardwalk Empire." By the 1970s, with vacationers headed elsewhere, a new plan was hatched: become the Las Vegas of the east. The first casino opened in 1978 and, by 2006, the total take reached a record $5.2 billion.
Then the bottom fell out as nearby states opened casinos, too. Four of the city's 12 casinos, the anchors of the local economy, closed in 2012. Some 8,000 lost their jobs.

Trump, the presumptive Republican presidential nominee, has boasted of his success here. While he may have made millions, his creditors suffered as his gambling parlors collapsed into bankruptcy. Today at the shuttered Trump Plaza, abandoned tables are visible through windows clouded with dirt.
Few in the city seem to think Straub can save Atlantic City from its past.
"A lot of the hopes and dreams have withered on the vine," says Bill Terrigino, 71, a retired casino worker who lives across from Revel.
Straub, who owns the Polo North Country Club in Florida, has become something of a local novelty. He docks his yacht, "Triumphant Lady," at the city marina and drives around town in a tan Cadillac Escalade SUV. At the Irish Pub, a former speakeasy, the waitress knows he likes desserts but not nuts.
Straub talks rapidly, sprinkling conversations with facts and figures and digressing into tangents. Perhaps Revel can host Syrian refugees, he says. Or teenage athletes. Or people seeking the secret to longevity.
Fiscal Distress
Revel is the most expensive private project in New Jersey history. But whether Straub sticks with Revel or flips it, as many here expect, may not matter much. If the city can't come up with a plan by November to mend its finances, the state may assume control.
Mayor Don Guardian says the city -- where over a third of residents live in poverty - must move away from its reliance on the wounded gambling industry and diversify its tax base. For now, a pledge of state and gambling funds has helped ease fears of an imminent default.
Revel, Guardian says, may be remembered as the coda to an entire period of Atlantic City history.
"It was the last hurrah for the concept of Atlantic City continuing to be gaming centric," Guardian says. As for Christie and others who want the power to sell the city's assets, the mayor asks: "What's the vision?"
As Revel began to spiral down, Christie pledged tax incentives and then pushed for internet wagering and a state-run tourism district. His administration hasn't said anything about the fate of Revel. Brian Murray, a spokesman, declined to say whether it has confidence in Straub's plans.
Straub, for his part, expects portions of Revel to be open this year and the rest by June 2017. A spokeswoman for the state's gaming regulator called his application for a casino license "substantive but incomplete."
Asked if he would sell the property, Straub says, "We've never flipped anything." Then, in his next breath, he adds: "I'm not going to turn down somebody who wants to come in and offer something for something."
Before it's here, it's on the Bloomberg Terminal.
LEARN MORE