Fed Reins In Rate-Hike Path as Brexit Cited in Latest Pause
By
Yellen says Brexit vote influenced call to keep rates steady

FOMC vote was unanimous as dissenter George rejoins majority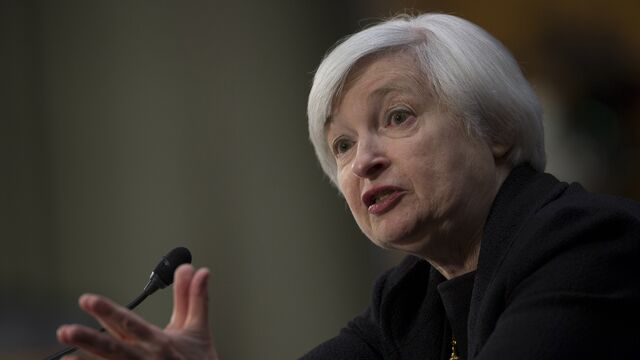 Fewer Federal Reserve officials expect the central bank to raise interest rates more than once this year, as policy makers painted a mixed picture of a U.S. economy where growth is picking up while job gains slow.
Britain's June 23 referendum on membership of the European Union was also "one of the uncertainties that we discussed and that factored into today's decision," Chair Janet Yellen said after the Federal Open Market Committee voted unanimously to leave rates steady at the end of a two-day meeting on Wednesday in Washington.
"It is a decision that could have consequences for economic and financial conditions in global financial markets," she told a press conference following the meeting. "If it does so, it could have consequences in turn for the U.S. economic outlook that would be a factor in deciding on the appropriate path of policy."
While the median forecast of 17 policy makers remained at two quarter-point hikes this year, the number of officials who see just one move rose to six from a single official in the previous forecasting round in March, according to Fed projections. The committee left their target range for the benchmark federal funds rate unchanged at 0.25 percent to 0.5 percent.

"The pace of improvement in the labor market has slowed while growth in economic activity appears to have picked up," the FOMC said in a statement after its gathering.
The Fed expressed confidence that jobs will rebound, saying that it expects "labor market indicators will strengthen." The "drag from net exports appears to have lessened" and housing has improved, while business fixed investment has been "soft."
The central bank also reiterated that interest rates are likely to rise at a "gradual" pace, without referring in the statement to the next meeting in July or any other specific timing for another increase. Yellen also declined to provide any guidance on timing during her press conference.
"I'm not comfortable to say it's in the next meeting of two, but it could," she said. "It's not impossible, I think by July, for example, we would see data that led us to believe that we're in a perfectly fine course."
In their previous meeting, in April, most Fed policy makers said they favored a June hike if the economy continued to improve, according to minutes of the session. Those intentions were thwarted, however, by the Labor Department's May employment report, the worst gain in payrolls since 2010.
The Fed said Wednesday that "although the unemployment rate has declined, job gains have diminished. Growth in household spending has strengthened."
The vote was 10-0, with Kansas City Fed President Esther George supporting the decision after dissenting in March and in April in favor of a quarter-point rate increase.
Median Projection
The median projection of officials for the federal funds rate at year-end remained at 0.875 percent, implying two quarter-point increases in the committee's four remaining meetings. The median long-run projection for the federal funds rate fell to 3 percent from 3.25 percent in March.
QuickTake The Fed's Cautious Path
"The Fed no longer sees itself approaching its longer run rate estimate by 2018," Neil Dutta, head of U.S. economics at Renaissance Macro Research LLC, said in a note. "We view this as a positive development. The risk of the Fed prematurely raising interest rates at this point is extremely low. They are going to let this cycle lengthen and strengthen by keeping rates low."
On Hold
All 106 economists surveyed by Bloomberg News expected the Fed to leave interest rates unchanged at the meeting. A separate survey last week showed that analysts projected two rate increases this year, while they were divided over whether the next hike would occur in July or September.
Yellen and her colleagues have wrestled with conflicting U.S. economic data over recent weeks as they pondered when next to lift the federal funds rate. The committee raised the benchmark in December, ending seven years at virtually zero.
A tightening labor market, signs of rising wages and a pickup in consumer spending have nudged the Fed toward another hike, while a slowing pace of job creation, evidence of lower inflation expectations and persistent risks from outside the U.S. have provided reason for caution.