'We've Got One Shot': Warnings Unheeded in Brexit's Northern Heartland
Voters in one of the first places to declare in Britain's upcoming EU referendum worry about immigration and sovereignty.
by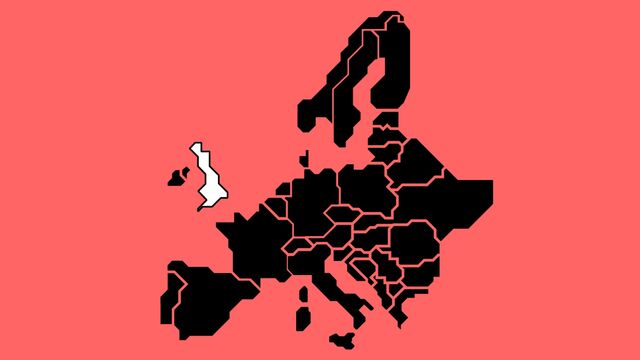 When Nissan Motor Co. threw England's northeast an economic lifeline and started producing cars in Sunderland in 1986, the Japanese carmaker was drawn by a pool of cheap, skilled and available workers with access to European Union markets.
Thirty years later, this city originally built on shipbuilding and coal mining is a bellwether for how much people want to leave the world's largest trading bloc rather than embrace it. Alienated by politics five hours drive south in London, Sunderland and places like it will determine the outcome of the June 23 Brexit referendum.
QuickTake Will Britain Leave the EU?
"There have been two campaigns: there's a media bubble around Westminster and there's the campaign being fought on the streets," said Dennis McDonald, 70, a retired Royal Air Force telegrapher leading a group of "Vote Leave" volunteers in the Sunderland district of Southwick. "We are only going to get one shot," he said, as the theme tune from the World War II movie "The Great Escape" blared out from a black Volkswagen Golf in the background.
Brexit Watch:
About as far away from traditionally pro-European London as you can get in England, the concerns over immigration and housing in downtrodden parts of the north make voters there a potential wildcard for Prime Minister David Cameron. To the many locals who feel cut off from the economic mainstream, while the EU might have been an asset to Sunderland when Nissan arrived, it's now a liability.
How the Remain and Leave sides fare in Sunderland may set the tone for the rest of the country. The Electoral Commission expects the city to be among the first to declare results. Of the 31 people asked by Bloomberg this month in Southwick, 18 said they would vote to leave the EU and just 6 opted for Remain. Others were undecided or said they won't vote. It's backed up by University of East Anglia academic Chris Hanretty, whose study of local polling data and recent opinion surveys identified a six percentage-point lead for the "Leave" campaign in Sunderland.
"I want out because of everything about the EU: the cost, immigration, the loss of sovereignty," said Michael Palmer, 52, the owner of a shoe repair shop in the district, where a pro-Brexit campaigner arrived with a decommissioned army vehicle to promote his message. "It's a complete waste of taxpayers' money."

Sunderland isn't obviously fertile ground for Vote Leave to campaign. The city is staunchly Labour, whose lawmakers, unlike the governing Conservatives, are almost all in favor of remaining in the EU. The anti-EU U.K. Independence Party, though, has encroached. It came second to Labour, the main opposition party, in two of Sunderland's three electoral districts in last year's general election, polling more than 19 percent, well above its national average.
Julie Elliott, the Labour lawmaker for Sunderland Central, campaigns weekly to avoid a Brexit. Her problem, she says, is persuading residents that EU membership benefits them.
"Brexit would be catastrophic for Sunderland and the northeast," she said. "You've got lots of companies who base themselves here to get the benefits of our very good workforce and be in the single market."
Cut Adrift
These are areas where unemployment is among the highest, there are more people suffering from long-term illness than there are students and hourly wages are at least 20 percent lower than in the southeast. In places like Sunderland's Southwick, betting shops and pawnbrokers are sprinkled among discount stores and takeaway restaurants on the high street.

Adjacent to the city of Newcastle on the North Sea coast, Sunderland's economy is dependent on the Nissan plant. It opened in the dark days in the mid 1980s when heavy industry was in terminal decline. It's Britain's largest car factory, employing 6,700 people rolling out more than 500,000 vehicles a year. Four-fifths of them are exported, albeit to 100 different markets rather than just the 27 other EU members.
The question is why a city of about 180,000 people would consider putting anything in jeopardy.
"These are voters who have been left behind by the economic transformation of Britain's economy over the last 40 years and who feel cut adrift," said Matthew Goodwin, professor of politics at the University of Kent in southern England.
Self-Harming
Cameron included Nissan in his core message that leaving the EU will strike at the heart of the U.K. economy, suggesting jobs at the plant would be at risk in a Brexit. "That would be a self-inflicted wound for Britain," he told Sky News on June 2. Nissan Chief Executive Officer Carlos Ghosn stated in February his company wants the U.K. to remain in the EU because it "makes the most sense for jobs, trade and costs,"
"My son-in-law works in Nissan, and if we pulled out of the European market, he'd lose his job," says Janet Madge, 53, who along with her husband Joseph and son Duncan plans to vote Remain. "And it's not just Nissan: there are offshoot companies that depend on it."
But that concern is overshadowed by ones that repeatedly surface among Brexit supporters: immigration, pressure on public services, and a perceived loss of sovereignty. The Leave campaign has increasingly focused on immigration in the closing weeks of a campaign and it's resonated in Sunderland even though the last census showed 95 percent of the population was born in the U.K.
"Where are we going to get the money for houses to put these people in?" asks Ken Hodgson, 62, a retired nurse and former miner with a prosthetic leg sat on a mobility scooter.
No Ships or Shops
You don't have to look hard to see the evidence of what happens if you get left behind by the global economy. In downtown Sunderland, more than two dozen retail units lie empty or boarded up on High Street West. One of biggest shops remaining is a branch of the now ailing BHS Group Ltd. clothing store, with discount signs in the window.
At one end of the road, authorities are trying to kindle civic pride with the "Keel Line," a line of paving stones inscribed with the names and construction years of 8,200 ships built in the city between 1786 and 1988, when the last shipyard closed. For now, it ends abruptly in 1879 at a patch of derelict land, with no sign of work to extend it.
Advanced manufacturing industries now account for one in six of the city's jobs, and rely on investment from Japan, South Korea and the U.S., says Paul Callaghan, chairman of the Sunderland Economic Leadership Board. "The parent companies have chosen the U.K. and specifically Sunderland as it is in the EU, but outside the euro," he says.

The board's analysis suggests Brexit could cost Sunderland's economy 2.5 percent of its output and as many as 2,665 jobs — more than 2 percent of the workforce in a city with a 8.5 percent unemployment rate versus the 5.2 percent national average.
Yet the Nissan plant notwithstanding, there's a sense among residents that they don't benefit from the EU. Many heard the core, though now discredited, Brexit campaign message that Britain can regain control of the 350 million pounds ($500 million) a week it currently sends to Brussels.
"They've taken money all the time, but we've got nothing in return," says Carol Smiles, 53. "It's about time we thought about our own people. It's like a small leak and if it doesn't get fixed, we'll lose everything."
Before it's here, it's on the Bloomberg Terminal.
LEARN MORE