Driving a Skoda on $82,000 Budget Will Make You President Here
By
Historian Johannesson tipped to win Iceland's June 25 vote

Leading candidate points finger at old guard marred by scandal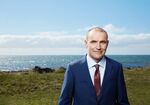 The front-runner to be the next president of Iceland is an academic who campaigns in a borrowed Skoda Favorit. His team: A manager, a photographer and a couple of people in charge of volunteers. Their budget: $82,000.
Gudni Th. Johannesson is an advocate of participatory democracy and a champion of the welfare state. Despite shunning populism and relying on small individual donations, the presidential election is his for the taking.
With just 10 days left until Icelanders head to the polls, latest surveys put support for the Oxford-trained historian at more than 55 percent, well ahead of former premier David Oddsson and Audur Capital co-founder Halla Tomasdottir, the businesswoman who launched the BJORK private equity fund with the eponymous pop artist.
How does a professor on a shoestring budget and limited experience in politics find himself on the brink of assuming the top post in one of the world's most developed nations?
Iceland has strict limits on how much candidates can spend, so big budgets are not crucial, says Olafur Hardarson, a political science professor at the University of Iceland. Campaigning in the 334,000-people nation is mostly done door-to-door or via free air time, rather than through paid TV commercials.
Referendum Fan
Johannesson sees himself as above party politics, as someone offering a clean break from the professional politicians of the past.
It helps that the island's 2008 financial crisis and the more recent Panama leaks scandal have undermined Icelanders' trust in the establishment. Only a few weeks ago protesters pelted the parliament with yogurt and bananas in a successful bid to oust the prime minister.
His campaign is focused on giving more power to the people.
"We need an article in the constitution that gives voters the chance to demand a referendum on particular subjects," he said in a recent interview.
But he has also staked out some unpopular positions. For instance, he has criticized his own country's role in the Icesave scandal, just as the north Atlantic nation gets ready to end eight painful years of capital controls.
Cod Wars
His main rival, Oddsson, has labeled him unpatriotic for his historical account of the Cod Wars, a decades-long period of at times military confrontations with the U.K. over fishing rights in the Atlantic Sea.
Should Johannesson be elected on June 25, he will take on a largely ceremonial role in a country that's slightly bigger than Maine and with a population not much greater than Anchorage's.
So, why should the world care?
Iceland occupies a strategic place half way between Europe and North America and is home to aluminum smelting plants owned by Rio Tinto Alcan and Alcoa. It derives virtually all of its electricity needs from renewable hydroelectric and geothermal sources, making it an environmentalists' darling. Having exited its IMF program early thanks to a bold recovery program, it is also hailed as a model of how to bounce back from financial collapse.

End of an Era
After nearly a decade of financial isolation, there's a sense of a brighter future in Iceland. On Tuesday, the national soccer team held mighty Portugal to a 1-1 draw in its first ever game in an international tournament, Euro 2016.
The outcome of a general election due to take place after the summer is wide open, with the subversive Pirate Party vying for top spot with the euro-skeptic Independence Party.
Johannesson's supporters will argue that a non-partisan man who's not afraid of engaging in critical thinking would be well placed to negotiate a potentially seismic shift in national politics.
Finally, an entire generation of Icelanders has grown up knowing no one else but Olafur Ragnar Grimsson, the outgoing president who has served for five consecutive mandates since 1996. With his successor chosen by a plurality of voters, June 25th will therefore end the tenure of Europe's longest-serving elected head of state or government bar President Alexander Lukashenko of Belarus.
Now, that's something worth noting.