Dollar Falls as Fed Foreshadows Gradual Path for Interest Rates
by and
Greenback touches lowest level versus yen since October 2014

U.S. currency extends 2016 loss as central bank stays on hold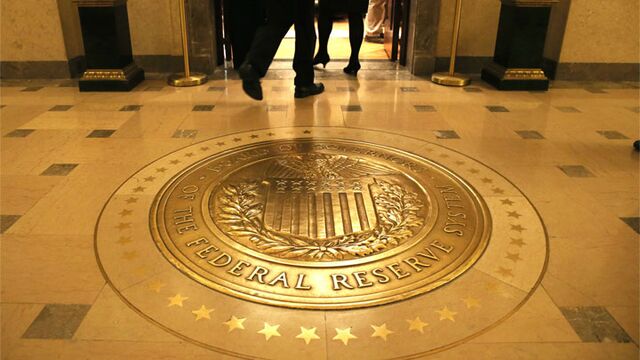 The dollar weakened, touching a 20-month low versus the yen, after the Federal Reserve held off on raising interest rates and suggested the pace of future increases will be slower than previously predicted.

The U.S. currency fell against most of its major peers as policy makers pared back rate-hike expectations, dimming the outlook for policy divergence from increased monetary stimulus in Europe and Japan. The number of officials who see just one increase in 2016 rose to six from one in the previous forecasting round in March, according to projections released by the Federal Open Market Committee.
Britain's June 23 referendum on membership of the European Union was also "one of the uncertainties that we discussed and that factored into today's decision," Fed Chair Janet Yellen said. The vote, together with central-bank gatherings in Japan and the U.K., and Spanish elections this month, triggered volatility to the highest in four and a half years.
"This slow-go Fed should be positive for foreign currencies and should take the wind out of the dollar's sails," said Robert Tipp, the head of global bonds and foreign exchange for the fixed-income division of Prudential Financial Inc., in Newark New Jersey. "That may not happen in a big way until we get past the Brexit vote. It's an important event on the horizon and investors may not be willing to take big positions until we get past that."
The greenback resumed its decline in June on speculation that the U.S. economy isn't strong enough to withstand higher borrowing costs. It's weakened against most of its major peers this year amid a lackluster outlook for domestic and international growth. This year's declines have capped a two-year rally on expectations of tighter monetary policy from the Fed.
While the currency is "certainly relevant" to Fed rate decisions, "I really would not go so far as to say it is a constraint on monetary policy," Yellen said in a news conference.
The dollar weakened 0.5 percent to $1.1260 per euro, and fell 0.1 percent to 106.01 yen at 5 p.m. in New York, reaching the weakest level since October 2014. The Bloomberg Dollar Spot Index has declined 3.8 percent this year.
Market Moves
"The reality is divergence isn't happening -- that's going to be bad news for the dollar," said Lee Ferridge, the Boston-based head of macro strategy for North America at State Street Global Markets. "It's going to take a meaningful pickup in data for July to be back on the table."
The median projection of officials for the federal funds rate at year-end remained at 0.875 percent, implying two quarter-point increases in the committee's four remaining meetings. The median long-run projection for the federal funds rate fell to 3 percent from 3.3 percent in March.
Futures traders had ruled out a hike at this week's gathering, while all 77 economists and strategists surveyed by Bloomberg News forecast no change in the policy rate. Futures show about a 40 percent chance of a rate hike by year-end, down from a 49 percent chance seen Tuesday.
Smaller-than-forecast May jobs growth in the U.S. weakened the case for the Fed to boost borrowing costs this month and dimmed prospects for dollar strength.
Hedge funds and money managers turned net bearish on the dollar for a five-week period in April and May after betting that the currency would rise since late 2014, according to the U.S. Commodity Futures Trading Commission. Speculators have turned bullish again, with long positions outnumbering bearish wagers by 145,247 contracts in the week to June 7, the CFTC data showed.
Strategists still forecast a stronger dollar for 2016, projecting it to rise to $1.10 per euro and 112 yen by the end of the year, according to the median estimate of analysts and economists surveyed by Bloomberg. That contrasts with options markets, which imply that the dollar only has a 4 percent of gaining against the yen and a 23 percent chance of rising against the euro by year-end.
Before it's here, it's on the Bloomberg Terminal.
LEARN MORE