Denmark Vows Unlimited FX Interventions If Brexit Threatens Peg
by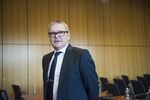 Denmark has unlimited fire power in the form of currency interventions to ward off any threat to its euro peg that might follow a British exit from the European Union, central bank Governor Lars Rohde said.
"We are prepared to do whatever it takes to fulfill the mandate," Rohde said in an interview in Copenhagen on Wednesday. Asked whether there's any limit to the extent to which the central bank can flood the market with kroner, he said "the short answer is: 'No."'

"Of course there'll be volatility in the currency market and you can expect volatility in other parts of the financial markets," Rohde said. "We are prepared to do what is necessary to counter the situation; we've done it before and we'll do it again."
Denmark successfully beat back a speculative attack against its euro peg early last year, after Switzerland's decision to send the franc into a free float fanned conjecture the Danes may follow. Back then, Rohde cut the main rate to minus 0.75 percent, almost doubled foreign reserves to about 40 percent of GDP and halted government bond sales to deter investors.
With Britain's June 23 vote on the EU feeding demand for the safest assets, the Danish central bank has already started dumping kroner on the market to defend the peg. In May, it resumed interventions to weaken the currency for the first time since last year's speculative attack.
Foreign currency reserves rose about 6 percent to 426.9 billion kroner ($64 billion) in May. That's still well below a March 2015 peak of 737 billion kroner, giving the central bank considerable leeway to do more should the need arise.
The bank recently received a helping hand from Denmark's biggest pension fund, ATP, which expressed unwavering faith in its ability to defend the peg. Rohde said the clear message to be taken from such statements is "don't count on breaking the peg. That will be a very unwise investment decision."
He also told funds inside Denmark that they're wasting money by hedging against a collapse in the peg. "It's unnecessary to hedge that currency risk. It's an unnecessary cost for them."

Should Britain opt to stay in the EU, "it's very difficult" to know how the so-called relief rally that might follow would affect the krone, Rohde said. No matter what the outcome, the central bank will act to "stabilize" the peg, he said.
Before it's here, it's on the Bloomberg Terminal.
LEARN MORE