business
Casino Titan Packer Hives Off Macau Stake From Aussie Assets
By and
Nobu stake, Vegas development site included in spinoff

Exploring IPO for 49% of a trust holding Australian hotels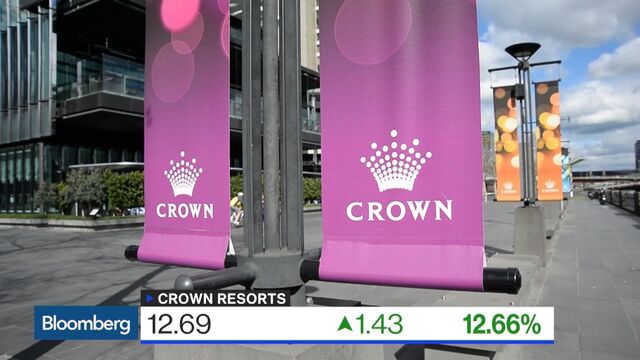 Crown Resorts Ltd. plans to spin off its international investments, including a $2 billion stake in Macau casino operator Melco Crown Entertainment Ltd., a move that would allow controlling shareholder James Packer to shield his Australian assets from a prolonged downturn in the Chinese gambling hub.
The new entity is also set to house Crown's development site in Las Vegas, a 20 percent stake in Japanese restaurant Nobu and half of U.K. casino operator Aspers Group, the Melbourne-based company said Wednesday. The gaming firm has a 27 percent stake in Nasdaq-listed Melco, where profit has plunged to a sixth of its 2013 peak amid Macau's two-year gambling slump.

"This new corporate structure, well positions Crown for the next decade as we continue to grow our business and meet the needs of the emerging Asian middle class," Packer said in a statement. The billionaire, who has a net worth of $3.4 billion, will remain deputy chairman of Melco.
Crown shares surged 13 percent to A$12.75 in Sydney on Thursday, adding about A$1.09 billion ($803 million) to its market value. Melco shares rose 4.8 percent to $14.18 Wednesday in New York. The stock is down 16 percent this year.
Chairman Robert Rankin said the split was designed to isolate Crown's Australian casino business from the wider group, which he said investors undervalued because of a gambling downturn in Macau. Shares in Crown, which is controlled by Packer's closely-held investment company Consolidated Press Holdings Ltd., had tumbled more than 30 percent since January 2014 as of Wednesday.
There was a "material undervaluation" in the Crown share price which didn't reflect the quality of the assets and the Melco business had acted as a "shadow on the Australian assets" as the Macau's fortunes fluctuated, Rankin said on a conference call Thursday. Investors will get access to an Asian growth story through the international business, he said.

The international spin off will give greater clarity on the value of Crown's holding in Melco, UBS Group AG analyst Matthew Ryan wrote in a report Wednesday. Crown has traded at a discount of 10 percent to 30 percent due to its Melco exposure, Ryan wrote.
Gambling revenue in the southern Chinese territory of Macau has been hurt by government curbs on illicit money flows and a campaign against corruption that deterred VIP players. In May, Crown sold an $800 million stake in Melco. 
Melco said it is strongly supported by its largest shareholder Melco International Development Ltd. and other investors and does not anticipate any impact "in any respect, including management, strategy and operations," according to a Wednesday statement in response to Crown's spin off.
Shareholders led by Packer will own equity in the new international entity proportionate to their Crown stakes, the company said. After the spinoff, Crown would hold gambling resorts in Melbourne, Perth and a planned luxury hotel-casino in Sydney. London casino Aspinalls and online gaming operations such as CrownBet would also be part of Crown.
The newly separated international business "will be set up as a growth asset and probably be given a reasonable-sized war chest to expand in Asia and Las Vegas," Evan Lucas, a market strategist at IG Ltd. in Melbourne, said by phone. "The Australian assets are humming along nicely enough, but you would not describe them as a great growth story."
Privatization Talks
Crown's reduction of its Melco stake in May revived speculation Packer was preparing to buy back some gaming assets in Australia. Last year he held talks with private-equity firms and pension funds about a possible buyout of Crown assets, people with knowledge of the matter said in December.
Rankin said Wednesday that Crown has "great faith in the long-term development of the Macau market." Listing a separate international business would give investors in Australia "operational leverage to an Asian growth story through a local play," he said.
Crown said as well that it will explore a potential initial public offering of 49 percent of a property trust that would hold its Australian hotels, apart from Crown Towers Melbourne. The trust would be listed on the Australia Stock Exchange, according to the statement.
Crown is working with Deutsche Bank AG, Morgan Stanley and UBS on the proposed property trust IPO, according to people with knowledge of the matter, who asked not to be identified as the information is private. A representative for Crown said she couldn't immediately comment.
The property trust may be valued at A$1.39 billion based on a price per room of about A$600,000, UBS's Ryan wrote. That may deliver proceeds to Crown of about A$503 million, or an increase of about 6 percent on the value of the company, he wrote.
The demerger may take between six and nine months to complete while the potential IPO of the five freehold, non-gaming hotels may take longer than nine months if the necessary approvals are held up, Crown Chief Executive Officer Rowen Craigie said on the call Thursday.
At the same time, Crown plans to implement immediately a policy to return all of its net income to shareholders through dividend payments, the company said.
S&P Global Ratings on Thursday placed Crown Resorts' credit rating on negative watch, while Moody's Investors Service also put the company on review for downgrade. Both credit assessors currently rate the casino operator two levels above junk.
"The rating outcome depends primarily on our assessment of the extent to which Crown's high-quality but more concentrated asset base can support its medium-term development pipeline and more aggressive payout ratio at the current rating level," S&P said in a statement.
(
Updates share price, adds credit assessor reaction in final paragraph.
)
Before it's here, it's on the Bloomberg Terminal.
LEARN MORE