business
CIMB Chief Calls Profit Goal 'Challenging' as Malaysia Slows
By
Bank may shut underperforming businesses to lower expenses

15% ROE goal challenging after Indonesian provisions: CEO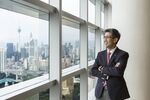 CIMB Group Holdings Bhd., Malaysia's second-largest lender, may have to lower a profitability target even as it considers shutting some underperforming businesses to reduce costs.
The goal of 15 percent return on equity by the end of 2018, established as part of a restructuring plan last year, will be "very challenging" to meet, Chief Executive Officer Tengku Zafrul Abdul Aziz said in an interview Tuesday. CIMB's Indonesian business has recorded unexpectedly high levels of bad-debt provisions in recent quarters, he said, adding that capital markets are expected to be quiet in the second half and consumer loan growth is slowing amid an economic downturn.
"We are reviewing that as we go on," Tengku Zafrul said, referring to the ROE goal. "Towards the end of the year, we have to look at how far we are with the achievements at the end-year result. Two years from 2018, if it's too far, then we'll have to adjust."
CIMB, which had an ROE of 7.9 percent as of March, warned last month of slower regional economies and persistent market volatility when it reported its quarterly results. The firm embarked on a cost-cutting program last year after abandoning a three-way merger with domestic competitors RHB Capital Bhd. and Malaysia Building Society Bhd. It has closed its Australian office and shed jobs in Malaysia, Indonesia, Hong Kong, Taiwan and South Korea.
The firm has 40,500 employees after cutting 10 percent last year. While CIMB is considering reductions in some low-returning businesses, the company may hire for growth areas, which could lead to little change in overall headcount, Tengku Zafrul said.
"There will be a headcount reduction for sure, if we continue" to restructure, Tengku Zafrul said. "In areas where we feel that it's not making enough returns, we have to make the tough decision. There will be also headcount increase in some other areas where we want to focus."
CIMB laid off 16 investment bankers in South Korea, Taiwan and India this week, in addition to 12 support staff that were cut from its broking business in Singapore this month, the CEO said in a separate statement on Thursday. The investment-banking reduction was reported by FinanceAsia earlier, while Business Times in Singapore reported on the broking changes.
Unprofitable Business
Further reductions may come in Indonesia, where the firm is working on plans to exit microfinance, an unprofitable business that has about 1,000 workers, Tengku Zafrul, 42, said in the interview. Cuts may also come in Thailand, where CIMB is shrinking its operations to focus on wealth management, and investment-banking operations in all the company's geographical locations are also under review, he said.
Corporate and investment banking contributed 38 percent of CIMB's pretax income last year, while commercial banking made up 17 percent, data compiled by Bloomberg show.
The company may hire for areas including servicing small and medium-sized enterprises and transaction banking, Tengku Zafrul said. It will add at least 50 people this year in Vietnam, where it's starting banking operations with a branch each in Hanoi and Ho Chi Minh City. The company has applied for a Philippine banking license and positions will be added there if CIMB is granted a permit, he said.
Consolidation Phase
In Indonesia, which accounts for about a fifth of CIMB's loans, the bank has tried to lower the risk in a portfolio that previously had too much focus on term loans and commodities, Tengku Zafrul said. The bank is now trying to lend more to bigger companies and multinationals, he said. Bad-debt provisions in 2016 for the country will be lower than last year, he said, adding that he's "optimistic" about the firm's performance there in the second half of the year.
After years of rapid growth, CIMB is now in a "consolidation" phase, the bank's chairman Nazir Razak told reporters at the World Economic Forum in Kuala Lumpur earlier this month.
CIMB dropped 2.5 percent as of 12:13 p.m. local time on Thursday, bound for the lowest close in four months. The stock has fallen 21 percent in the past year, compared with a 6.1 percent decline in the benchmark FTSE Bursa Malaysia KLCI Index.
Nazir had stepped aside as chairman in April during a monthlong internal investigation into his role in helping his brother, Malaysian Prime Minister Najib Razak, distribute funds to politicians before elections three years ago. An audit by Ernst & Young found Nazir didn't misuse his position or the bank's resources.
The prime minister is facing his biggest political crisis since coming to power seven years ago amid questions over $681 million that appeared in his accounts before the 2013 election. Attorney General Mohamed Apandi Ali said the money was a personal donation from the Saudi royal family, and that Najib later returned $620 million. Najib has repeatedly denied any wrongdoing.
— With assistance by Chanyaporn Chanjaroen
(
Updates with latest job cuts in seventh paragraph.
)
Before it's here, it's on the Bloomberg Terminal.
LEARN MORE