China Stocks Jump After MSCI, Spurring Intervention Speculation
Bloomberg News
Onshore yuan erases drop after weakening to five-year low

Shenzhen stocks gain on expectation of expedited bourse link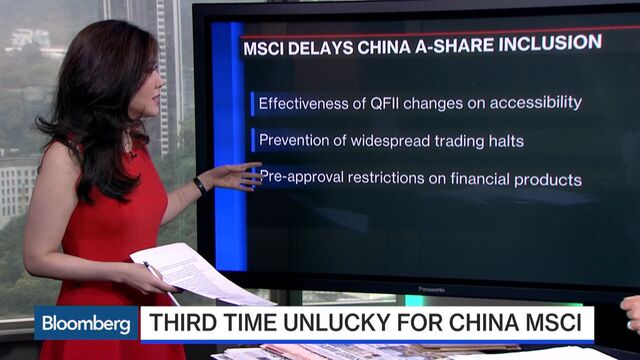 China's stocks jumped the most in two weeks, reversing an earlier loss and spurring speculation that state-backed funds may be supporting the market after MSCI Inc. refused to add the nation's domestic equities to benchmark indexes. The yuan erased declines.
The Shanghai Composite Index rose 1.6 percent at the close after falling as much as 1.1 percent, with about 88 shares gaining for each one that dropped. A measure of Shenzhen stocks rallied the most this month on speculation authorities could expedite an exchange link with Hong Kong after MSCI's decision. The Hang Seng China Enterprises Index added 0.3 percent. China's onshore currency added 0.1 percent after sliding to a five-year low.
"It's a sharp reversal so there has to be some government intervention," said Francis Lun, chief executive officer at Geo Securities Ltd. in Hong Kong. "The Chinese government never wants to see the market falling too much."
China's equities were rejected by MSCI despite a flurry of measures this year to address concerns, including curbs on arbitrary trading halts and looser restrictions on cross-border capital flows. Unprecedented meddling by mainland authorities during last summer's market turmoil failed to prevent the Shanghai Composite from tumbling 43 percent in the past 12 months to be the worst performer among global gauges.

The Shanghai gauge traded at 2,887.21, while the CSI 300 Index added 1.3 percent. Shares in most Asian markets rebounded after mounting concern about the U.K. voting to leave the European Union pushed a regional gauge to a three-week low on Tuesday.
Wang Zheng, a Shanghai-based chief investment officer at Jingxi Investment Management Co., said investors are bargain-hunting after recent declines. The Shanghai Composite tumbled 3.2 percent on Monday, and its Wednesday low took it near the 2,800 level that's been recently seen as the point where state funds step in to shore up equities.
"It's possible that the national team is buying to stabilize the market," said Zhang Haidong, chief strategist at Jinkuang Investment Management in Shanghai, who noted he hasn't any direct knowledge whether this is happening. "The government cannot let the market continue to slump when it's around these levels."
MSCI said it will reconsider inclusion in its 2017 market classification review, while not ruling out an earlier announcement. The 120 Chinese stocks that are currently part of the MSCI Emerging Markets Index, a seventh of the gauge's total constituents, all trade in Hong Kong or the U.S. They have a combined weighting of 20 percent in the benchmark, which is tracked by investors with $1.5 trillion in assets.
Shenzhen Rally
The Shenzhen Composite Index surged 3.1 percent and the ChiNext gauge of small-company shares rallied 3.4 percent, bolstered by speculation authorities will announce a start date to the long-delayed exchange link with Hong Kong.
"There are expectations that the pace of the Shenzhen link will be accelerated to offset the negative impact of the MSCI decision and to display China's commitment to further opening up its capital markets," said Wang Chen, a partner with Xufunds Investment Management Co. in Shanghai.
Watch Next: Why China's Stock Market Wasn't Ready for MSCI Inclusion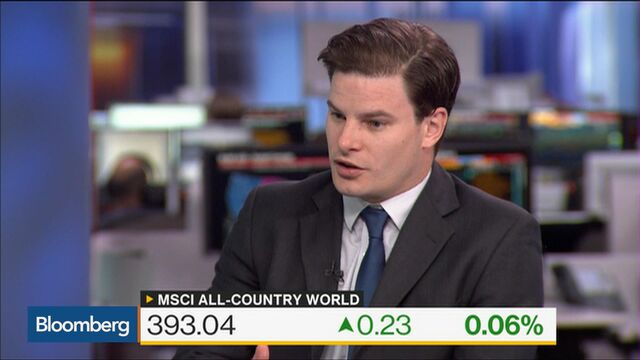 — With assistance by Shidong Zhang
Before it's here, it's on the Bloomberg Terminal.
LEARN MORE