China Below Pakistan at MSCI Shows Beijing's Credibility Problem
by
Hangover lingers from stock, currency interventions in 2015

Index compiler, IMF have both urged more aggressive reforms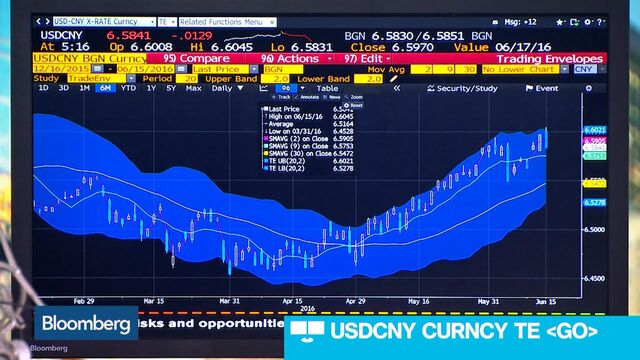 For all the talk in Beijing about embracing market forces, Chinese policy makers still have their work cut out to win the trust of international investors.
QuickTake China's Market Meddling
The country's haphazard response to last year's stock-market meltdown is so seared into the memory of global money managers that MSCI Inc. decided it was too soon to let Chinese shares into the firm's benchmark indexes on Tuesday. Even as MSCI granted emerging-market status to Pakistan -- a much less developed country that effectively banned sell orders for three months in 2008 -- the index compiler said market participants need more time to assess China's recent reform efforts.
Investor reticence reflects not only technical issues over accessing the $5.7 trillion market, but also broader concerns that the ruling Communist Party's actions to open the economy have failed to match official rhetoric. Foreigners have purchased less than half their quota of mainland shares through the Shanghai-Hong Kong exchange link, while the yuan's role in global currency markets has been shrinking in recent months.
"China lost so much credibility last year in terms of how they approached the market and interacted with investors," said Fraser Howie, the Singapore-based co-author of "Red Capitalism: The Fragile Financial Foundation of China's Extraordinary Rise." "We simply do not know on any given day how a Chinese regulator will respond to any given scenario."

The government's reputation as a savvy manager of the world's second-largest economy has taken a hit after heavy-handed efforts to contain last year's $5 trillion equity rout, a poorly communicated plan to free up the yuan and a state-directed lending boom that sent China's debt levels to record highs. The expansion in credit spurred the International Monetary Fund to warn this month that policy makers need to change course to avoid "serious" long-term problems.
For its decision on Chinese stocks, MSCI said it consulted with money managers overseeing a majority of the estimated $10 trillion in assets tracking its global benchmark indexes. Those investors stressed the need for a "period of observation" to gauge the effectiveness of recent measures to curb trading halts and ease restrictions on capital flows, while also expressing concerns over official limits on monthly redemptions and the licensing of financial products, MSCI said.
The New York-based firm's announcement came two days after an official from China's securities regulator called MSCI inclusion a "historical certainty."
"China is a big, important economy, but they can't necessarily have it all their own way," Stephen Lingard, who oversees about $7 billion as a portfolio manager for Franklin Templeton Solutions, said by phone from Toronto. "The market will hold them accountable for the structure of their equity market and rules and regulations that maybe are opaque and not transparent."
For more on Wall Street's reaction to the MSCI decision, click here.
MSCI was quick to acknowledge that China has made "significant improvements" in recent months. In February, regulators allowed qualified traders to shift money in and out of the country on a daily basis, a key change for open-ended mutual funds. In May, domestic stock exchanges published rules restricting trading halts. And this month, China gave a 250 billion yuan ($38 billion) investment quota to the U.S., allowing American institutions to invest overseas yuan in mainland markets.
Beijing has also freed up local interest rates, vowed to give the market a bigger say in setting the yuan's value and opened up the nation's interbank bond market to foreigners.
"The decision is understandable, in light of lingering uncertainty and concerns, but might lack foresight when reviewed in the near future," China's official Xinhua News Agency wrote in a commentary on Wednesday. "It is a pity that the decision-makers have been hesitant, again."
Intervention Speculation
The range of analyst opinions on what's likely to happen next shows how hard it is to read China's commitment to address MSCI's concerns. Citigroup Inc. sees a 70 percent chance that yuan-denominated A shares will win inclusion next June, while Deutsche Bank AG predicts 2018 is more likely. Natixis SA says China's reluctance to give up control over its capital account makes it unlikely policy makers will cater to all of the index provider's requests.
In the latest sign investors are unconvinced Beijing will loosen its grip on markets, the Shanghai Composite Index jumped 1.6 percent on Wednesday amid speculation authorities were propping up shares to save face after the MSCI rejection. The yuan climbed from a five-year low as traders cited signs of state intervention.
The Shanghai gauge retreated 0.5 percent on Thursday, while the yuan resumed declines, falling 0.1 percent.
China's challenges extend beyond financial markets. The country needs a comprehensive plan to harden budget constraints on state-owned enterprises, restructure or liquidate weak firms and recognize losses in the banking system, IMF Deputy Managing Director David Lipton said in a speech dated June 11.

China's total debt pile stood at around 250 percent of gross domestic product at the end of 2015, while figures released Wednesday showed new loans rebounded to 985.5 billion yuan in May, topping all 35 estimates in a Bloomberg survey of economists.
"Given that China has made so much economic progress over the past thirty some years, there are many entrenched interests, including both SOEs and already successful private businesses, that are against further market reforms," said Chen Zhiwu, a finance professor at Yale University in New Haven, Connecticut, and a former adviser to China's State Council.
For Howie, the author who's been following Chinese markets for more than two decades, MSCI's decision to allow Pakistan into its emerging markets index before China should serve as a wake-up call for the latter nation's leaders.
"It's self-reflection time in Beijing," he said.
Before it's here, it's on the Bloomberg Terminal.
LEARN MORE