Brexit Fight Takes to River Thames as Geldof Harangues Farage
by
Rock star Bob Geldof taunts UKIP leader Farage from 'In' boat

'We want to have our fishing back,' says Labour lawmaker Hoey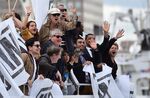 The Brexit battle took to London's River Thames as boats supporting the "Leave" and "Remain" campaigns jostled for space, while Irish rock star Bob Geldof harangued U.K. Independence Party leader Nigel Farage using a sound system.
Brexit Watch: The pound, the polls, and the probability of Brexit, all in one place
Some 30 fishing vessels festooned in British flags and "Leave" banners sailed up the Thames early Wednesday, before mooring between Tower Bridge and London Bridge, close to the financial district. They were greeted by a pleasure cruiser laden with "Remain" supporters, including Geldof, and two small dinghies that sped around waving giant "In" banners. After noon, a dozen of the boats carried on up the Thames to the Houses of Parliament.

"The message is we want to have our fishing back," opposition Labour Party lawmaker Kate Hoey, who supports a vote to leave the EU, said in an interview on the South Bank of the Thames. "We gave it away. We've now got the fishing industry almost destroyed in this country and we allow boats from Spain and other countries to come in and fish our fish. It's outrageous. We should be like Norway and Iceland having our own fishing waters."
By allying himself with the fishermen, Farage is emphasizing how his message that the U.K. will be better off outside the 28-nation EU has resonated among disaffected working-class Britons. With the referendum just eight days away, a slew of recent polls has put "Leave" ahead, in spite of warnings that a so-called Brexit may trigger a recession and permanently damage the economy.
'Baby, Please Don't Go'
After two days of squally rain, a dose of continental sunshine greeted the campaigners on the Thames.
"Today's flotilla is not a celebration or a party but a full-throttled protest," Farage said in a statement. "We want our waters back!"
The main "In" boat played a series of songs over its sound system, including "Baby, Please Don't Go" by Them and Dobie Gray's "The In Crowd."
"Nigel Farage is a liar and a fraud," Geldof said over the sound system. 
"That stupid little 'In' boat," Hoey fulminated. "I'm not even interested in it. They're nothing. They come from middle-class, intellectual, academicky London. These people have come from Cornwall, from Scotland and sound systems like that are probably very expensive. These guys, probably Goldman Sachs paid for their boat."
The environmental group Greenpeace earlier put out a statement saying that Farage had attended just one out of 42 meetings of the European Parliament Fisheries Committee when he was a member.
"It's undeniably true that Nigel himself was not in the room," said UKIP spokesman Gawain Towler. "But his vote was cast and his seat was taken" under arrangements allowing proxies to attend, he said.
Watch Next: What Happens if the U.K. Leaves the EU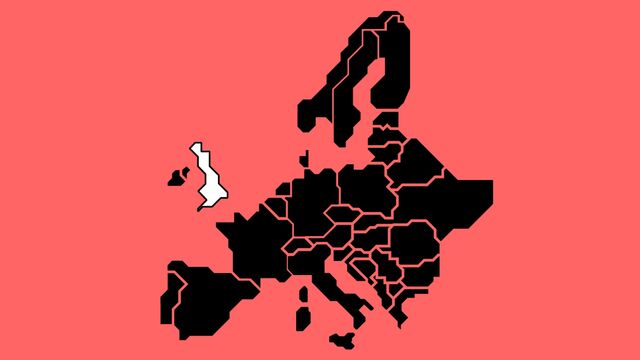 Before it's here, it's on the Bloomberg Terminal.
LEARN MORE