BOJ Decision-Day Guide: Action Seen at This Meeting or in July
by
Fed policy, upcoming Brexit vote factors in board's debate

Kuroda seen as 'pushed into a corner' by lack of inflation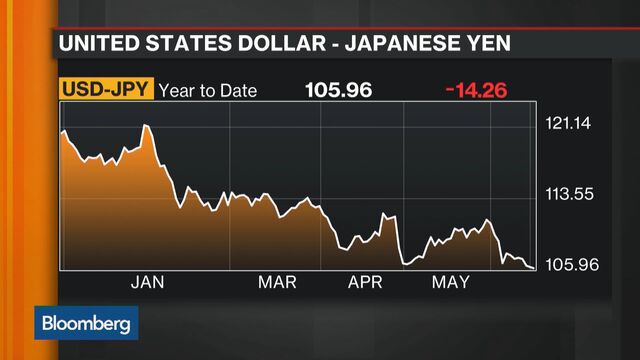 The Bank of Japan will decide whether to expand stimulus Thursday in the shadow of a Federal Reserve policy gathering and turmoil in global markets as a British vote nears on leaving the European Union.
Even with that timing, the internal dynamics of Japan's economy and monetary policy may be the key to the outcome of the two-day meeting. The BOJ's new negative interest rate is unpopular with many Japanese, including lawmakers facing an upper house election on July 10.
At the same time, the central bank's massive asset-purchase program isn't generating much inflationary pressure and the economy shows few signs of strength. That leaves analysts predicting further easing -- the main question being whether it is now or next month, and what form it will take.
By deploying more stimulus Thursday, the BOJ would show it is serious about Governor Haruhiko Kuroda's quest to do whatever it takes to achieve the 2 percent inflation goal. Yet by holding off, Kuroda and the board could digest the market impact of the June 23 Brexit referendum, limit the risk of being dragged into the local election debate, and also factor in the path of U.S. monetary policy before the BOJ gathers again in late July.
The yen's strength may also be an issue as the currency this week reached a 21-month high against the dollar.
Eleven of 40 economists -- 27.5 percent -- forecast further easing at this meeting while 55 percent predict a change in July, according to a Bloomberg survey.
Click here to see the full survey of views from analysts
Though Kuroda is known to like surprises, he is facing pressure to ease soon, especially after he disappointed markets by leaving policy unchanged in April. Meanwhile, the BOJ's forecast for reaching the price target during fiscal 2017 is seen as increasingly difficult to achieve.
"Kuroda is pushed into a corner," said Hiroshi Shiraishi, an economist at BNP Paribas Securities. "The bottom line is there is no prospect for reaching his inflation target, none at all. It's undeniable."
The board could make a case for waiting -- or expand stimulus by adjusting the size and composition of the asset-buying program. This would draw criticism from banks and investors who argue that the BOJ's bond purchases are distorting the market while a deeper dive on negative rates would risk a public and political backlash.
A decision usually comes between noon and 1 p.m. in Tokyo. Kuroda will hold a press briefing at 3:30 p.m. local time.
Here is what to watch:
Timing -- June or July?
With the majority of analysts predicting easing at the July 28-29 meeting, fully 83 percent see more stimulus this month or next, according to the Bloomberg survey conducted June 6-10.
Since the last meeting on April 28, economic data have shown the gross domestic product rose more than expected while inflation is falling at almost the same pace as when Kuroda began the stimulus program about three years ago. Also, Prime Minister Shinzo Abe on June 1 announced he was delaying raising the sales tax, to 2019 from 2017 after a previous hike in 2014 pushed the economy into recession.
If he wants to bolster stimulus, Kuroda could win a vote more in his favor in July as board member Koji Ishida is stepping down this month. Ishida voted against both the expansion of stimulus in October 2014 and the introduction of negative rates in January.
Whatever Kuroda decides, he is seen as being keen not to frustrate the markets as he did upon standing pat in April, when a slim majority of analysts forecast more stimulus. Any signs in his press conference of additional easing next month will be closely watched if the BOJ leaves policy unchanged Thursday.
Risks for Kuroda
If he eases now, Kuroda runs the risk of the policy being undermined by a stronger yen in the event of a vote for Brexit, which could spark demand for safe-haven assets.
As a sign that lawmakers see the BOJ as a potential political liability in the current environment, Abe's ruling Liberal Democratic Party didn't mention the central bank in its election platform, in contrast to previous campaigns.
In another swipe at negative rates, the Bank of Tokyo-Mitsubishi UFJ Ltd., Japan's biggest bank, has threatened to withdraw from the group of 22 primary dealers for government bonds. This has fueled more anxiety over BOJ's unprecedented stimulus.
Easing Tools
Analysts see increased purchases of exchange-traded funds and a deeper cut to the negative interest rate as the most likely paths for further easing, according to the Bloomberg survey. Just less than half of those surveyed expect a boost to government-bond purchases that are the core of the current easing program.
Nobuyuki Nakahara, a close adviser to Abe, said in an interview last week that in the future he sees potential for the BOJ to emulate the European Central Bank in buying riskier corporate debt.
Kuroda has repeatedly said he won't hesitate to add stimulus as needed in three dimensions ---quantity, quality and the key policy rate. If Kuroda refrains from using any of these tools, the markets could perceive it as a sign that the BOJ is coming closer to a limit on easing.
Emergency Meeting
With the yen's strength and the Brexit vote unsettling markets, Kuroda in his press conference could signal the potential for holding an emergency meeting if needed before the late July gathering, according to some economists.
"There is a chance Kuroda will indicate his willingness to hold an emergency meeting," Shiraishi said, with the need for such a session depend on "how the markets react" to the British referendum.
Before it's here, it's on the Bloomberg Terminal.
LEARN MORE