Bank of Japan Buying Spree Inflates World's Priciest REITs
by , , and
J-REITs are most expensive with 62% premium to value

Prices of J-REITs have room to gain further: fund manager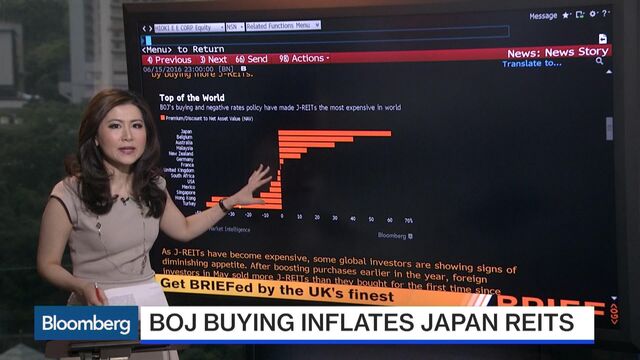 Japan's real estate investment trusts have soared in value to become the priciest in the world. More purchases by one of the biggest investors in the landlord business -- the Bank of Japan -- may help propel prices even higher.

Buying by the BOJ has helped boost premiums on J-REITs, which manage rental properties such as apartments, offices and malls, to 62 percent as of June 8, meaning investors would pay almost two-thirds more than the appraised value of properties they own, according to S&P Global Market Intelligence estimates. That gap makes J-REITs outliers compared with similar securities around the world, and suggests that the BOJ's stimulus is stoking extreme price dislocations in this market.
"The BOJ's REIT buying is a big trigger for prices to increase," said Yoji Otani, an analyst at Deutsche Bank AG. "When they buy, everyone follows because they know that downside risk is limited. If the REIT index declines, the BOJ will just buy more, so everyone just buy, buy, buy."
The BOJ's shopping spree, which has made it a figurative landlord at iconic Tokyo landmarks including the Otemachi Tower and Shibuya's Tower Records building, may continue as it expands its record stimulus even as the central bank kept its monetary policy unchanged on Thursday. About 28 percent of economists in a Bloomberg survey had forecast additional easing at this week's meeting, with 55 percent looking for more stimulus at the next gathering on July 29, when the BOJ will update its inflation projections.

As J-REITs have become expensive, some global investors are showing signs of diminishing appetite. After boosting purchases earlier in the year, foreign investors in May sold more J-REITs than they bought for the first time since January, when Governor Haruhiko Kuroda announced a negative rate policy, according to data from the Tokyo Stock Exchange. Another sign that some investors are sensing a bubble is the decision in April by Tokio Marine Asset Management Co. to stop accepting money for its REIT funds.
The BOJ has become one of the largest owners of Japanese trusts that manage rental properties since it started buying them in 2010 as part of a plan to end deflation and curb a decline in land prices. Since then, the central bank has acquired 318.3 billion yen (almost $3 billion) of the country's J-REITs and annually buys 90 billion yen of the securities. It accelerated purchases in May to the highest in almost five years.
The Tokyo Stock Exchange REIT index fell 0.1 percent after rising as much as 0.5 percent earlier on Thursday, while the Topix index declined 1.2 percent. Japan's benchmark government bonds rose, sending the 10-year yield to a record low of minus 0.21 percent. The yen advanced to 104.7 per dollar at 12:05 p.m. local time, after strengthening past 105 per dollar for the first time since September 2014.
Nearing Limits
The central bank, which is nearing limits on expanding its bond and stock purchases and has faced some warnings on owning too much through exchange-traded funds, has room to expand in the $109 billion J-REIT market, where it has a 3.8 percent footprint at current values. Apart from demand from the central bank, the trusts are also benefiting from investor appetite for higher-yielding securities in an era of near-zero bond returns.

"Using the process of elimination, it's probably unavoidable that the weight of J-REITs will be increased," said Toshiki Morimoto, head of program trading at Tokyo-based Okasan Securities Co.
The valuation of J-REITs compares with a 32 percent premium for similar trusts in Australia, according to S&P Global Intelligence. REITs in Hong Kong are trading below their value, as are those in other developed markets such as the U.K. and the U.S. REITs trade at a 1.4 percent discount in the U.K. and 5.8 percent below par in the U.S., the data show.
'Maximum Premium'
The premium on J-REITs stood at 28 percent at the start of April 2013, the month Kuroda began his stimulus program. As his bond-buying and negative interest rate policies have depressed yields, income-hungry investors have flocked to the securities, which are required to pay out all their profits in the form of dividends.
Estimates from Deutsche Bank's Otani peg the premium for J-REITs at around 40 percent, based on a different model to value underlying assets. Even so, that is "a maximum premium," Otani said, adding that the premium would have to halve for prices to reach acceptable levels. He also cited dangers when rates eventually start to increase.
"Once Japanese government bond yields start to rise, the REIT index will collapse," he said.
Some investors do see value. Tim Gibson, co-head of global property equities at Henderson Global Investors Ltd., where he oversees $1.8 billion, said J-REITs are fairly valued compared with bonds, especially given their yields.
"We live in a strange world," Gibson said. "If people get used to the new paradigm of negative interest rates, J-REITs will probably increase further."
J-REITs paid an average dividend yield of 3.1 percent, roughly in line with similar vehicles elsewhere in the world, while 10-year Japanese government bonds had a negative yield of about 0.2 percent.  Those returns are especially appealing in a world where stocks have been turbulent and global bond yields have plunged to the lowest levels ever recorded. The Tokyo Stock Exchange REIT Index is up about 6 percent this year, and the broader market has declined 18 percent.

Over the past month, the BOJ confirmed that it held 5 percent stakes in 13 of the nation's 54 J-REITs, after ownership surpassed a disclosure threshold. Aggregate numbers based on those 13 J-REITs show that the central bank is the fourth-biggest holder, behind Nomura Holdings Inc., and subsidiaries of Sumitomo Mitsui Financial Group Inc. and Shinko Asset Management Co. The BOJ now owns the equivalent of as many as 107 buildings and 1.4 square kilometers of space in the country, equal to three times the area of Vatican City, according to Bloomberg calculations.
Apart from Otemachi Tower near Tokyo station, the building that serves as headquarters of Mizuho Financial Group Inc.'s securities division, the BOJ also owns a part of Shinjuku Center Building, which made an appearance in the 1984 film The Return of Godzilla, and Bloom Tower, a 48-story residential building built on reclaimed land in south Tokyo.
Before it's here, it's on the Bloomberg Terminal.
LEARN MORE