U.S. Stocks Slide for Fourth Day Amid Brexit Concern Before Fed
by
Equities pare losses in final-hour surge; volatility slips

Polls show support growing for U.K. to leave European Union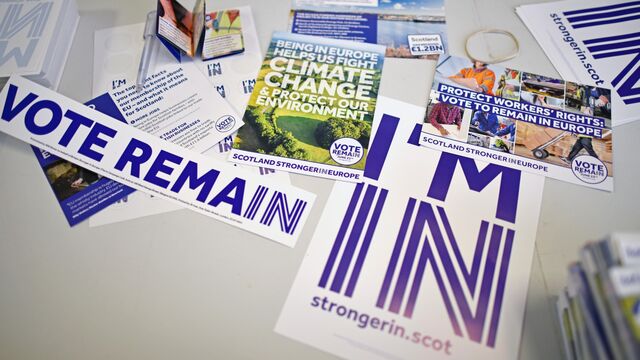 U.S. stocks retreated for a fourth day, the longest since February, amid growing uncertainty about the U.K.'s future in the European Union and as investors awaited Wednesday's Federal Reserve announcement.
Equities staged a late rebound, surging from the day's lows in the final hour to pare much of the session's losses that reached as much as 0.7 percent in the S&P 500 Index. Banks dropped on speculation low rates will continue to weigh on earnings, while haven buying boosted the dollar, dragging down raw-material producers. Investors seeking safety gravitated to the high dividend yields offered by utilities and phone companies.
The S&P 500 slipped 0.2 percent to 2,075.32 at 4 p.m. in New York, remaining at a three-week low. The gauge dropped below its average price during the past 50 days, which then became the ceiling on the late-day recovery. The Dow Jones Industrial Average declined 57.66 points, or 0.3 percent, to 17,674.82, after falling as much as 136 points. The Nasdaq Composite Index lost 0.1 percent. About 7.4 billion shares traded hands on U.S. exchanges, 7 percent above the three-month average.
"It was nice to see a good retail sales number, but folded on top of that you have Brexit, speculation around the Fed and the market still near some highs," said Richard Sichel, chief investment officer at Philadelphia Trust Co., which oversees $2 billion. "That's causing investors to remain cautious. The news cycle has been taken over by what the Fed is going to do."
The CBOE Volatility Index fell 2.2 percent Tuesday to 20.50 on the late-day comeback, halting its longest stretch of gains since August. The measure of market turbulence known as the VIX erased a 5.7 percent climb today, after jumping 23 percent Monday, the most this year.

The bout of selling is occurring just days after the S&P 500 hit its highest in almost 11 months, buoyed by optimism that low rates, steady job gains and modest growth would continue to support rising stock prices. Sentiment has shifted, with the potential fallout from a June 23 vote on Britain's membership of the EU increasingly unsettling global markets. Britain's largest-selling newspaper now backs a so-called Brexit, while five polls in the past 24 hours put the "Leave" campaign ahead of "Remain."
As policy makers and investors scrutinize data to weigh U.S. growth, a report today showed retail sales rose more than forecast in May, indicating consumer spending will help boost second-quarter growth. A separate gauge showed inflation pressures are building. The costs of goods imported into the U.S. climbed 1.4 percent in May, the biggest gain in four years.
Rate Wagers
Although traders are pricing in zero chance of a rate move tomorrow, Chair Janet Yellen's commentary afterward will be parsed for hints on the trajectory of borrowing costs. At least even odds for a rate increase have been pushed out to February 2017.
The S&P 500 had rallied as much as 16 percent from a 22-month low in February to within 0.6 percent of an all-time high, before its four-day slide amid growth worries and Brexit anxiety. The benchmark is less than 3 percent from its record set nearly 13 months ago, and has gone the longest without a fresh high outside of a bear market since 1984.
"Brexit is adding fuel to the fire for risk-averse investors," said Jasper Lawler, an analyst at CMC Markets Plc in London. "Markets are already worried about slowing global growth and the inability of central-bank policy to stem the decline. Global growth concerns are present because we don't know where the Fed is on that, but depending on the language they use, this could cause the market to gain again."
In Tuesday's trading, six of the S&P 500's 10 main industries rose, led by gains of 0.5 percent in phone companies and utilities. Consumer staples added 0.3 percent, while technology, health-care and industrials all edged up less than 0.2 percent. Financial shares dropped 1.5 percent and raw-materials lost 0.8 percent.
Card Companies
Credit-card companies were hammered, leading the slide in financials as Synchrony Financial tumbled 13 percent near a four-month low. The issuer of private-label cards said it was setting aside more money for loan losses. Capital One Financial Corp. fell 6.6 percent, the worst since July, and American Express Co. decreased 4.1 percent to the lowest since April 12.
Banks in the benchmark declined at least 1 percent for a fourth straight session, sliding to a two-month low. KeyCorp and Citizens Financial Group Inc. slumped at least 3.4 percent. The KBW Bank Index fell to the lowest in nine weeks.
Freeport-McMoRan sank to a two-month low to pace the drop in raw-materials. Alcoa Inc. retreated 2.4 percent, while Mosaic Co. and Owens-Illinois Inc. fell more than 2.3 percent.
Airlines were battered for a second day, with a Bloomberg index of U.S. carriers marking its worst back-to-back drop in more than a year. Southwest Airlines Co. slumped 5.4 percent to an almost four-month low, while United Continental Holdings Inc. lost 4.5 percent to its lowest since October 2014.
Home Depot
Home Depot Inc. and Lowe's Cos. fell at least 1.8 percent after May retail sales data showed weakness in building materials and garden equipment. Department stores also saw sales declines, sending Nordstrom Inc. and Kohl's Corp. down at least 2.3 percent.
Among companies moving on corporate news, Yahoo! Inc. rose 2.6 percent, among the strongest in the S&P 500. Private equity suitors TPG, Advent International Corp. and a partnership of Sycamore Partners and Vector Capital Management are into the final round of bidding for its core internet business, as well as some of its intellectual property and real estate assets, according to people familiar with the matter.
General Electric Co. added 2 percent, the most in the Dow and steepest in a month. The conglomerate affirmed its 2016 forecast in an analyst presentation, and also said it's opening a research and development center in Paris to work on software design for industrial applications as part of a push to boost sales from information technology.
Before it's here, it's on the Bloomberg Terminal.
LEARN MORE