Trump Faces New Challenges Testing Terror Playbook Against Clinton
The Republican's projection of strength worked for him in the primary, but Clinton may be better suited to avoid his national-security traps.
By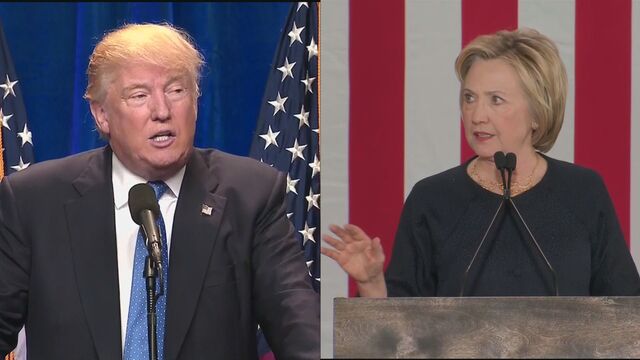 Donald Trump rode to the top of the Republican presidential field by projecting an image of strength. He had the harshest words on immigration, anti-terrorism proposals that provoked outrage, and a hair-trigger campaign style that invited new controversies to move past old ones.
Now, after the worst mass shooting in American history, he's taking the same chaos-based approach to the independent voters he needs to beat Democrat Hillary Clinton.
Unlike Trump's foes in the GOP primary, however, Clinton may be better suited to avoid his national-security traps, thanks to her particular strengths with voters and the unique shape of the general-election race.
"Trump's chance of success depends on the extent to which people are desperate for a change in direction at the highest levels of government, regardless of whether they know what those changes look like so far," said Whit Ayres, a Republican pollster. "But that's what put him in the game so far."
In dueling speeches Monday reacting to the shooting in Orlando, Florida, Clinton and Trump offered contrasting approaches—one of steadiness, one of strength—that amounted to the clearest indication yet of how the candidates believe they can best win the White House.
'Increasingly Presidential'
"Hillary is trying to look increasingly presidential. I think she took a pretty good stab it," Republican pollster Ed Goeas said of Clinton's speech in Cleveland. "Trump is still trying to be forceful and strong."
Trump's so-called America-first approach relies on voters frustrated with the political system, impatient for wholesale changes, and dreadful about a continuation of President Barack Obama's policies. After Trump railed against political correctness and attacked Clinton by name 18 times in Monday's address, one of his closest confidants declared success.
"A great day for the campaign," said the adviser, Roger Stone.
Later, Trump made good on his promise to remain politically incorrect by revoking credentials for the Washington Post over a story he deemed unfair. Trump's campaign released a statement that the Post, one of the nation's most respected newspapers, had "no journalistic integrity" and was being used by "the owners of Amazon" for tax avoidance. (Amazon Chief Executive Officer Jeff Bezos bought the newspaper in 2013 and recently said Trump's lashing out at media critics is inappropriate.) 
Trump also made comments Monday that raised questions about whether he was accusing Obama of complicity in the Orlando attack by neglecting the fight against terrorism. His campaign disputed that interpretation. "I was referring to the fact that at times President Obama seems more in support of Muslims than Israel," Trump said in statement to Bloomberg Politics sent by spokeswoman Hope Hicks.
Forceful Tone
In Clinton's primary fight against Vermont Senator Bernie Sanders, who had support from the anti-war wing of the Democratic Party, she didn't emphasize foreign policy. But she signaled a more forceful tone Monday with a speech that condemned "radical jihadists" and aimed harsh words at U.S. allies in the Middle East.
"It is long past time for the Saudis, the Qataris, and the Kuwaitis and others to stop their citizens from funding extremist organizations," she said. "And they should stop supporting radical schools and mosques around the world that have set too many young people on a path towards extremism."
In his speech in New Hampshire, Trump accused Clinton of supporting immigration policies that hurt constituencies that Democrats purport to defend.
"Clinton wants to allow radical Islamic terrorists to pour into our country. They enslave women, and they murder gays. I don't want them in our country," Trump said.
While both presumptive nominees are generally disliked and distrusted by voters, Clinton has a significant advantage in polls on the question of temperament and—over criticisms during the primary that she wasn't exciting enough for her party's base—sought to crystallize her advantage against Trump with her measured, point-by-point remarks in Ohio, a crucial swing state.
In the Republican race, Trump's stunning proposal to temporarily ban Muslim immigration gave him a huge advantage over rivals, with as many as 70 percent of primary voters backing it. But the most recent ABC News/Washington Post national poll on the proposal, conducted May 16-19, found it to be a virtual jump ball among independent voters. While polls showed that Trump was the most trusted candidate to handle terrorism and foreign policy in the GOP race, he's facing a different hurdle against Clinton, who ranks among her party's most aggressive voices when it comes to U.S. military engagement.
'Commander-in-Chief Test'
Asked which candidate they'd trust more with nuclear codes, voters gave Clinton an advantage of 22 percentage points over Trump in a Quinnipiac University poll last month. She also had a double-digit lead on who would do a better job responding to an international crisis. An ABC News/Washington Post poll at the same time showed a similar advantage for Clinton on who would better handle international relations. She was favored nearly 2-to-1 when a George Washington University poll asked which candidate would better handle foreign affairs.
"General-election voters want to know if you can pass the commander-in-chief test, and that's about more than tough rhetoric," said Stephanie Cutter, deputy manager for Obama's 2012 re-election campaign. "Hillary Clinton has already passed that test. But it's absolutely an open question for how people view Donald Trump."
On the question of who is best suited to combat terrorism, the polls are less clear-cut, however. Recent surveys from Gallup and Fox News show Trump with an advantage, while voters sided with Clinton in ABC News and CNN polls.
"Voters rate her quite a bit higher in terms of qualifications to be president," said Gary Langer, whose polling firm conducts the ABC News surveys. "That experience comes less into play on terrorism, where voters give Trump credit for being a strong leader."
Trump has some inherent advantages against his Democratic rival. Aside from the large share of independents who say they'd back the Muslim ban, he's adamantly opposed to another assault-weapons ban. In December, after the shooting rampage in San Bernardino, California, more Americans than ever agreed with his position.
Clinton wants to restrict sales of military-style firearms. "We have to make it harder for people who should not have those weapons of war," Clinton said. "That may not stop every shooting or every terrorist attack, but it will stop some and it will save lives and it will protect our first responders."