U.S. Stocks Extend Slide as Yellen Bounce Ebbs; Gold, Bonds Jump
by and
Dollar retreats as Fed scales back rate-hike predictions

Asian index futures mixed ahead of BOJ's policy review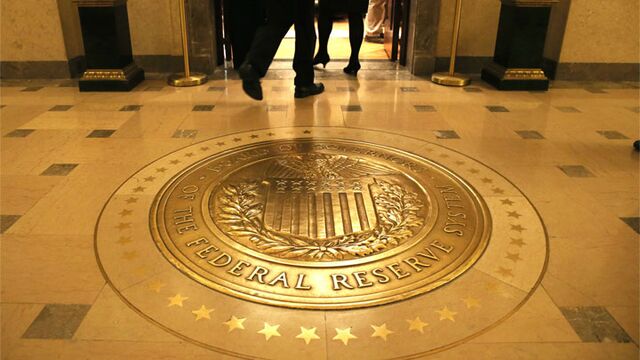 The U.S. equity market's respite from concerns over the global economy failed to last a single day, with the S&P 500 Index erasing gains that earlier put it on track for the biggest advance in three weeks. Treasury yields and the dollar extended declines after Federal Reserve officials signaled a slower pace of interest-rate increases.
The S&P 500 slid a fifth day, wiping out a rally in the last 30 minutes of trading, after crude oil tumbled to cap its longest run of declines in four months. Emerging-market assets maintained gains as the number of Fed officials who see just one rate hike this year rose to six from one in the previous forecasting round in March. Yields on two-year Treasury notes dropped to a four-month low, while the greenback slid to its weakest level since 2014 versus the yen. The pound rallied on quickening U.K. wage growth.

Equities lost momentum following a speech from Fed Chair Janet Yellen, as traders turned their attention to the lackluster growth outlook implied by the Fed's dovishness. Anxiety that British citizens will vote to leave the European Union has burdened financial markets all week as investors speculated secession will weaken the global recovery. Yellen said that the U.K.'s June 23 referendum was a factor in the Fed's decision to hold rates steady Wednesday as a so-called Brexit could have "consequences" for the U.S. The focus now shifts to policy reviews from Japan and the Bank of England due on Thursday.
"Without something to push equities higher, besides low rates, we're losing steam," said Bill Schultz, who oversees $1.2 billion as chief investment officer at McQueen, Ball & Associates Inc. in Bethlehem, Pennsylvania. "With uncertainty around the British vote later this month, the path of least resistance seems to be down."
For an overview of issues facing central bank meetings this week, click here.
Fed officials continued to forecast two 25 basis-point rate hikes this year, after leaving the target range for the federal funds rate unchanged at 0.25 percent to 0.5 percent.
"The pace of improvement in the labor market has slowed while growth in economic activity appears to have picked up," the Federal Open Market Committee said in its post-meeting statement. Investors remain cautious after $2.7 trillion was wiped off the value of global equities in four days on mounting concern Britons will vote for Brexit.
Stocks
The S&P 500 slipped 0.2 percent to 2,071.50 as of 4 p.m. New York time, after climbing as much as 0.5 percent during the session. Health-care and technology shares were the biggest drags on the index, while consumer discretionary and material companies helped mitigate some losses.
Traders said selling pressure built up through the afternoon but didn't hit stocks until after Yellen finished her press conference. One signal was in crude, with New York-traded futures beginning to decline roughly when the Fed's statement arrived and continuing their decline though Yellen's testimony. Others pointed to an imbalance of orders that often materializes at the end of trading sessions.
"There are still a lot of people that use the market on open and close to trade and what happens is there are buy and sell imbalances," Joe Sowin, head of global equity trading at Dallas, Texas-based Highland Capital Management LP, said by phone. "There was a $1.1 billion sell imbalance and when you have an interesting move in the S&P down, more people are inclined to sell in the last half hour."
"It's kind of a guerrilla warfare signal," he said.
Energy stocks in the S&P 500 slumped for a sixth day, their longest losing streak since August, when China's surprise currency devaluation spurred a global rout. The Stoxx Europe 600 Index added 1 percent Wednesday, led higher by commodity producers and retailers to snap a five-day drop.
The MSCI Emerging Markets Index rose 0.6 percent from a three-week low amid the Fed's emphasis on a gradual rate-hike path. The Shanghai Composite ended the day up 1.6 percent, after earlier sliding as much as 1.1 percent, amid speculation state-backed funds may have supported the market after MSCI put off a decision to grant mainland Chinese equities admission into its benchmark gauges. The index provider said market participants need more time to assess China's recent reform efforts.
Index futures foreshadowed a mixed Thursday in Asia, with the Bank of Japan expected to stand pat on stimulus in its review. While futures on Japan's Nikkei 225 Stock Average climbed in Osaka and Chicago, those on stock measures in South Korea and Hong Kong were little changed or slightly lower.
Currencies
The Bloomberg Dollar Spot Index, which tracks the greenback against 10 major peers, fell 0.3 percent Wednesday, as the MSCI Emerging Markets Currency Index added 0.2 percent, ending a four-day slide. The Colombian peso and Russian ruble led gains versus the dollar, while the yen rose as much as 0.6 percent to 105.44 per dollar, its strongest level since October 2014.
The pound gained the most in a week, climbing 0.6 percent to $1.4204, as data showed an unexpected acceleration in U.K. wage growth and the unemployment rate fell to 5 percent, the lowest level since 2005.
The yuan gained 0.3 percent to 6.5786 per dollar, China Foreign Exchange Trade System prices showed. It fell as much as 0.1 percent earlier on Wednesday after the MSCI decision. Nigeria's naira advanced 0.3 percent after the nation's central bank said they will allow the currency to be market-driven. The new flexible exchange-rate system will be implemented from June 20, according to an official.
Bonds
Treasuries surged, with yields dropping across maturities. Yields on the 10-year note fell four basis points, or 0.04 percentage point, to 1.57 percent, while rates on the two-year debt slid as much as six basis points to 0.66 percent, the lowest level since Feb. 11.
The probability of the U.S. central bank raising rates in July more than halved from where they were at a week ago to 5.9 percent, with odds not exceeding 50 percent this year, according to Fed funds futures tracked by Bloomberg.
"I think the Fed's in doubt themselves about the state of the economy, given the mixed signals we've gotten," said John Carey, a Boston-based fund manager at Pioneer Investment Management Inc., which oversees about $230 billion. "They're in doubt as to whether or not we're facing some kind of larger slowdown or starting to improve."
The rate on similar-maturity German debt was at minus 0.01 percent, after sliding into negative territory for the first time on Tuesday as Brexit concerns fueled demand for haven assets.
Commodities
West Texas Intermediate crude oil slid 1 percent to $48.01 a barrel, as the return of Canadian output following wildfires in the key energy-producing region there offset a decline in U.S. stockpiles.
The recovery in oil prices remains "fragile" as disrupted supplies return to the market and prolong the global surplus, according to analysts at Goldman Sachs Group Inc. Prices briefly moved into positive territory after the U.S. Energy Information Administration data showed that American crude supplies fell by 933,000 barrels last week.
Copper rose the most in three months amid a broader rally in mining stocks and base metals on signs China plans to increase stockpiles. Nickel, aluminum, lead and zinc also advanced.
Gold, regarded as a haven along with government debt and the yen, jumped 0.5 percent in the spot market to $1,291.75 an ounce, its highest closing price since April 29. The prospect of the U.S. keeping interest rates lower for longer is a boon to the precious metal as it doesn't offer yields.
Before it's here, it's on the Bloomberg Terminal.
LEARN MORE