New CEO of Petrobras Has Good News for Brazil's Ethanol Makers
by
Parente signals end of government-subsidized gasoline prices

Higher gasoline costs likely to spark demand for biofuel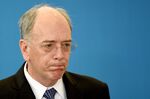 The new chief executive officer of Petroleo Brasileiro SA looks like he's going to be making fans in the ethanol industry.
Pedro Parente, who was sworn in as the head of Brazil's state-owned oil producer this month, has made clear that the era of government-subsidized domestic gasoline is over. That's likely to raise prices and make it more attractive for drivers to fill their tanks with ethanol, made from sugar cane. In Brazil, flex-fuel cars can run on either and the two compete directly.
While rising gasoline costs will likely add more inflation pressure, it's a boon for ethanol producers including Bunge Ltd., Cargill Inc. and China's Cofco Corp. Traditionally, drivers choose ethanol when it's below 70 percent of the price of gasoline, because the biofuel yields about 30 percent less energy per liter. The country's sugar millers have been collecting a bigger cane crop, so there will be plenty of raw material available to produce extra fuel.

Parente, a 63-year-old engineer who was previously the head of Bunge's Brazil unit and chairman of the sugar and ethanol group Unica, said June 1 that fuel price decisions will now be made according to Petrobras's best interests, rejecting any political interference. The company reiterated that stance on Monday in comments to Bloomberg News. The move comes as the CEO has vowed to clean up the company that was "victimized" by a group of corrupt executives who were looking for personal enrichment and power, he has said.
Vocal Critic
When he was still at Bunge, Parente was among those who criticized government interference in fuel markets. In a public event held in Sao Paulo in September 2012, he told former finance minister Guido Mantega that caps on fuel prices had been hurting the ethanol industry and curbing investments, local newspapers reported.

Parente's recent pledges make room for a fuel-price hike in Brazil. State-run Petrobras imports gasoline because it doesn't produce enough to meet demand in Latin America's biggest economy. It has been selling the fuel domestically at a loss following a recent surge in international prices. The price for the gasoline that Petrobras sells is currently about 8 percent below import-cost levels, William Hernandes, an analyst at consulting firm FG Agro, said by phone.
"It's early to say, but it gives us more confidence that gasoline prices may be raised if such losses persist," Luis Roberto Pogetti, chairman of sugar and ethanol exporter Copersucar, said by phone from Rio de Janeiro, where he attended Parente's swearing-in ceremony.
Refining Losses
A gasoline hike in September 2015 and a recent board rejection to a government proposal to cut fuel prices signaled that political interference in Petrobras had already been fading over the past months, Pogetti said.
Shares of White Plains, New York-based Bunge, which has more than third of its long-term assets in Brazil, have jumped 26 percent since the start of March. That compares with a 13 percent gain for the S&P 500 Materials Index. Bunge is one of the companies set to benefit from a tax increase on gasoline, Bloomberg Intelligence analyst Tobias Nystedt said in a note last week.
Petrobras's refining division reported tens of billions of dollars in losses during the commodities boom because it sold imported gasoline and diesel at a loss as part of a wider government push to curb inflation. Fuels is one of the most important items for inflation in Brazil, accounting for 5.4 percent of the IPCA index.
"Raising fuel prices means injecting inflation in the vein," said Adriano Pires, head of energy consulting firm CBIE.
Current gasoline prices are already 11 percent higher than a year ago after Petrobras raised its sale prices. More hikes are likely to come as the company needs to make up for losses mounted over the past five years, Pires said. "Parente's challenge will be to maintain domestic gasoline prices at least 10 percent higher than imports costs in the next few years, or Petrobras will remain stuck in its crisis," he said.
Before it's here, it's on the Bloomberg Terminal.
LEARN MORE