'Impossible' for Japan Banks to Charge Depositors, Minister Says
by and
Ishiba says it's 'scare-mongering' to stoke such worries

Security policy should be election topic with economy, he says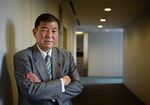 Negative interest rates won't be allowed to affect ordinary depositors, a Japanese cabinet minister said in the run-up to a July election in which the opposition has sought to make the nation's monetary policy an issue.
Shigeru Ishiba, minister in charge of regional revitalization, spoke in an interview in Tokyo on Tuesday, ahead of a two-day Bank of Japan policy-setting meeting and less than a month before the upper house election. Last week, the main opposition Democratic Party said negative rates should be ditched because they are a burden to savers and small businesses, and called for the BOJ's monetary policy to be more flexible.
"Japan will not introduce a policy where individuals are charged for depositing money in the bank," said Ishiba, a potential successor to Prime Minister Shinzo Abe. "It's impossible." Measures should be taken to resolve any unease about the effects of negative rates, he added, referring to suggestions they would affect ordinary depositors as "scare-mongering."
Bank of Tokyo-Mitsubishi UFJ Ltd., Japan's biggest bank, is considering quitting as one of 22 primary dealers of Japanese government bonds, the latest sign of stress in a debt market that's struggling to cope with the central bank's unprecedented stimulus. While monetary easing to defeat deflation has been a major pillar of government policy under Abe, it is not mentioned in his party's platform for the July 10 vote.
Abe is already on the campaign trail for an election he has said will show if voters approve of his decision to put off an increase in the sales tax and continue with his Abenomics economic program. While media polls show Abe's ruling coalition is likely to win, most respondents say they're not convinced his policies will revive the economy.
About 48 percent of respondents to a Kyodo poll published this week said they supported Abe's cabinet, but 62 percent said they don't think Abenomics would improve the economy.
Ishiba, 59, said the pessimism stemmed from limits to monetary easing and fiscal policy, combined with uncertainty over what policies would come next. He called for the private sector and regional industries to take the lead.
'Fundamentally Change'
"The original intention of Abenomics was to make use of the leeway created during the period of monetary easing and fiscal stimulus to change the nature of Japan's economy," Ishiba said. "So we need to fundamentally change regional industries like agriculture, fisheries, forestry and service industries starting with tourism," he said. "That requires the regions to make an effort."
Since announcing the election date, Abe has largely steered clear of the divisive issues of defense and his ambition to change Japan's pacifist constitution. His easing of restrictions on the military amid China's increased regional clout sparked protests in Tokyo last year. The Democratic Party is cooperating with the strictly pacifist Japanese Communist Party in a bid to capture the votes of those opposed to Abe's defense policies.
Ishiba, a former defense minister, said that while the ruling Liberal Democratic Party was not yet ready to fight on the issue of constitutional change, national security should be one focus of the election.
"I don't think it's right to avoid talking about something because it's risky," Ishiba said. "It's important to talk about it in a way people can understand," he said. "Elections are the only time when the people have a chance to make a judgment."
Ishiba ran against Abe in the 2012 election for the LDP leadership. He did not rule out another bid for the post, after setting up his own faction within the party last year. Abe's second three-year term as LDP president ends in 2018 and it is not yet clear if it will be extended.
"Anything could happen," Ishiba said. "It's a politician's responsibility to have a plan ready for when the time comes."
Before it's here, it's on the Bloomberg Terminal.
LEARN MORE