Lotte Chairman Shin Apologizes as South Korea Presses Inquiry
by and
Chairman plans to revisit hotel IPO canceled amid probe

Korean group breaks ground on Axiall petrochemical venture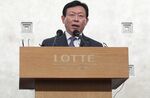 Lotte Group's chairman apologized for a widening probe by South Korean prosecutors into alleged embezzlement, bribery and use of slush funds at the retail and industrial conglomerate.
"I am sorry that this has recently become an issue," Shin Dong Bin told reporters Tuesday, saying he is hoping for a speedy conclusion to the investigation. "I feel responsible and I am telling all subsidiaries to cooperate as necessary."
Shin's comments come less than a week after South Korean prosecutors raided Lotte's headquarters in Seoul, prompting the group to shelve plans for its hotel unit's initial public offering and a takeover bid for Atlanta-based Axiall Corp. Shin on Tuesday said he plans to pursue the hotel IPO at a later time.
"We will try to get it done by the end of the year," Shin said at a groundbreaking for a joint venture ethylene plant between Lotte Chemical Corp. and Axiall due to open by early 2019 in Lake Charles, Louisiana. "It's a promise I made to the Korean people last time I was at the National Assembly, so I will make sure gets publicly listed."
The corruption allegations, which come on the heels of a family feud over control of a conglomerate that has 89 South Korea-based units with more than 100 trillion won ($85 billion) in assets.
Lotte's plans to buy a U.S. duty-free shop operator valued at as much as 1.7 trillion won and a takeover of Hyundai Logistics Co. were also suspended along with proposed deals for hotels in the U.S. and France, Yonhap News Agency reported on Tuesday, without citing anyone or naming the target companies.
Before it's here, it's on the Bloomberg Terminal.
LEARN MORE