Italian Ex-Premier Berlusconi Has Heart Surgery In Milan
By
Berlusconi had aortic valve replaced in hours-long operation

Media mogul is Italy's longest-serving post-war premier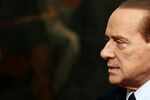 Italian former Prime Minister Silvio Berlusconi underwent heart surgery on Tuesday after his doctor said he suffered from "severe aortic insufficiency."
A spokesman for the San Raffaele hospital in Milan said in an e-mailed statement that the ex-premier, 79, underwent some four hours of surgery to replace an aortic valve. The Ansa news wire, quoting hospital sources, said the operation took place "without any problems."
Berlusconi had said in a post on his Facebook page on Monday that he was "naturally concerned" but that he felt "very comforted by so many demonstrations of esteem, support and affection I have received from everywhere, even from so-called political opponents." In an earlier statement, he said he entrusted himself "to God." The Corriere della Sera newspaper said on Tuesday that he had spent a quarter of an hour alone with a priest.
Berlusconi, whose rule was plagued by allegations of misconduct -- which he denied -- was admitted to the hospital for medical checks on June 7 after suffering cardiac deficiency. His doctor, Alberto Zangrillo, said last week that he hoped Berlusconi could within a month of surgery return to "a vitality which would be better than previously."
Support for Berlusconi's Forza Italia party has dwindled in recent years. In the first round of mayoral elections on June 5, it won 20.2 percent of the vote in Milan, and only 4.2 percent in Rome. The runoffs take place on Sunday.
Berlusconi had a pacemaker fitted in the U.S. in 2006 and it was replaced at San Raffaele in December. Italy's longest-serving postwar prime minister, he controls Fininvest Spa, a Milan-based investment company. It is the biggest shareholder in publicly traded assets including broadcaster Mediaset SpA, publisher Arnoldo Mondadori Editore SpA and Banca Mediolanum Spa. It also owns the AC Milan soccer club.