Israel's Central Bank Expects Job-Cutting Plans by End of Year
by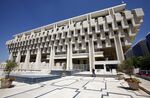 The Bank of Israel expects the country's lenders to submit job cut plans by the end of the year as the regulator pushes banks to become leaner and more competitive.
The country will see a significant decline in the number of bank employees in coming years, Banks Supervisor Hedva Ber said at a press conference in Jerusalem on Tuesday. The industry totaled about 47,000 workers in 2015, a decline of about three percent from the previous year, according to Bank of Israel data.
Israel's central bank is driving change in the industry, requiring lenders to shore up capital adequacy ratios -- a measure of financial strength -- and rein in salaries. Bank of Israel Governor Karnit Flug and Finance Minister Moshe Kahlon are also seeking to make it easier for new and smaller banks to open in the country and compete against larger rivals.
Bank Leumi Le-Israel Ltd., the nation's second-largest lender by assets, approved a 550 million ($142 million) shekel plan this month to force about 6 percent of its workforce into early retirement this year. The lender said it will study the plan's effectiveness in 2017 and consider its expansion then.
The Tel Aviv Banking Index rose 0.8 percent to 1,293.64 at 1:20 p.m. local time.
Before it's here, it's on the Bloomberg Terminal.
LEARN MORE