Islamic State Fanatic Blamed for Slaying French Cop and Partner
by and
Man swore allegiance to IS three weeks earlier, Molins says

He was under surveillance yet no clues of possible attack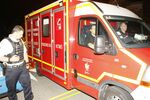 A man who swore allegiance to Islamic State stabbed a policeman and his partner to death on Monday and may have been planning similar attacks on rap stars, public figures and the media, according to French Prosecutor Francois Molins.
The attacker was killed inside the couple's house in Magnanville in Yvelines close to Paris by police, and the pair's three-year-old child was saved, President Francois Hollande's office said in a statement.
Identified as Larossi Abballa, the attacker had sworn allegiance to the Islamic State leader Abu Bakr al-Baghdad three weeks earlier, Molins told reporters on Tuesday. Abballa knew the victim was a policeman and a list of targets, ranging from key
public figures to rappers, was found in the house, according to Molins.
French government spokesman Stephane Le Foll said on RTL radio that the killings were an "act of terrorism." Abballa was convicted in September 2013 of taking part in a terrorist cell that operated between France and Pakistan, Molins said, and was sentenced to three years in prison.
As part of an investigation into another jihadi network, Abballa's phones were being wire tapped but there were "no indications that could suggest he was preparing to commit a violent act," Molins said. "There was therefore no justification to detain him."
Following the attack, three people were detained on Tuesday and are currently being interrogated, Molins said.
Before it's here, it's on the Bloomberg Terminal.
LEARN MORE