French Street Demonstrations on Labor Bill Take Violent Turn
by
Labor union CGT maintains opposition to government plans

Mass protests with Euro 2016 soccer matches in full swing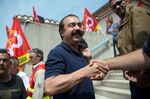 Labor protests in the French cities of Paris, Lyon and Marseille were disrupted by violent skirmishes between police and protesters as workers marched against President Francois Hollande's plans to ease employee protections.
Paris police arrested at least 16 people while 26, including 20 officers, were injured, Agence France-Presse reported, citing law enforcement figures.
The union Confederation Generale du Travail, the most vocal opponent to the changes, had pledged to rally more protesters Tuesday than in any demonstration so far during the three-month campaign to block efforts to make the French labor market more responsive to shifts in the economy. While the unions said 1 million people joined in the march, the police's estimate put the crowd at between 75,000 and 80,000 demonstrators.
The tussle between Hollande's Socialist government and France's most strident labor unions has gripped the country since March, causing major disruptions in public transportation, gasoline supplies and garbage collection as well as occasional outbreaks of violence.
Bypass Parliament
The protests and the acts of violence took place as thousands of soccer fans attend Euro 2016 soccer games across the country. The monthlong soccer tournament kicked off on Friday with 24 national teams playing in 10 different cities across the country. That's stretched French police with fans clashing in Marseille ahead of an England-Russia game last Saturday and more violence feared in coming days.
The unions are pushing back against a draft bill that would allow businesses to increase working hours with minimal compensation, cap severance pay and make it simpler for companies to eliminate jobs.
Senators began debating the bill on Monday. The legislation has already been watered down in the lower chamber and the opposition Republican lawmakers who control the Senate have vowed to completely rewrite it. The to-and-fro between the chambers may delay the bill or even force the government to use an emergency measure to bypass the parliament for the second time on this text.
The bill is Hollande's last major attempt at economic reform before his mandate expires in just over a year.
Trash Collection
While some union members have taken a break from their walkouts in the past week, CGT leader Philippe Martinez said they are ready to continue with their action and warned of further disruptions.
Most international and domestic trains are due to run Wednesday and the mayor of Paris has vowed to keep the capital clean during the soccer tournament despite strikes at waste treatment facilities.
Meanwhile, the main pilot union said it may call further strikes at Air France over demands they work longer hours for the same pay. The four-day strike will cost more than 40 million euros ($44.8 million), Air France Chief Executive Officer Frederic Gagey told Agence France-Presse. The pilots' current strike ends Tuesday.
Before it's here, it's on the Bloomberg Terminal.
LEARN MORE