Five Things You Need to Know to Start Your Day
Get caught up on what's moving markets.
by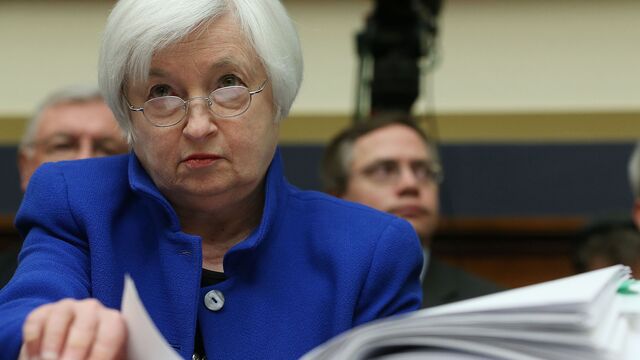 Want to receive this post in your inbox every morning? Sign up here.
Fed meeting begins, German 10-year yield falls below zero, and risks of a Brexit climb. Here are some of the things people in markets are talking about today.
Fed meeting begins
The Federal Reserve's Open Market Committee meeting for June kicks off today, with the interest rate decision and press conference due tomorrow. Market implied odds of a rate hike at this meeting have fallen to zero in the aftermath of the latest jobs report. They were higher than 30 percent as recently as May 26. Also meeting this week is the Bank of Japan, where investors see a 27.5 percent chance of further policy easing at the June 16 decision.
Bund yield sub zero
After a seemingly interminable wait, the yield on Germany's 10-year sovereign debt has dropped below zero for the first time. The shift into negative territory is part of a continuing trend across global markets that has seen record low yields and surging volatility in developed market sovereign debt. The yield on 10-year U.S. Treasury debt fell to 1.582 percent by 6:08 a.m. ET, with the yield on the Bloomberg Global Developed Sovereign Bond Index declining to a record 0.58 percent.
Brexit risk surges
The British pound is falling, the FTSE 100 Index is having its longest run of declines of the year, and gilts are rallying as polling shows support for the U.K. to leave the European Union in next week's referendum taking a clear lead. Britain's biggest selling newspaper, the Sun, backed a Brexit on its front page this morning. Betting probabilities of a vote to leave are surging this morning, with the likelihood of the U.K. remaining in the EU down to 62 percent, from as high as 85 percent at the end of May. One place that has remained relatively calm so far are money markets, thought that could yet change. 
Markets slump
The MSCI Asia Pacific Index declined 0.7 percent for its fourth day of losses overnight. All investor eyes in China will be on MSCI Inc. who are set to announce early Wednesday local time whether they are going to include mainland shares in their global benchmark indices. In Europe, the Stoxx 600 Index was 1 percent lower at 6:10 a.m. ET as risks from the Brexit vote and central bank meetings weighed on sentiment. S&P 500 futures were 0.8 percent lower.
Coming up...
Retail sales data are due to be released at 8:30 a.m. ET with economists surveyed by Bloomberg expecting headline growth to fall to 0.3 percent from the previous month's 1.3 percent increase. While a surprise is unlikely to do much to shift expectations for this week's Fed meeting, the number is viewed as a gauge of the health of the world's largest economy. 
What we've been reading 
This is what's caught our eye over the last 24 hours.
Before it's here, it's on the Bloomberg Terminal.
LEARN MORE