Fed Kicks Off Busy Two Days for Central Banks: What to Watch
by
Chair Janet Yellen likely to be questioned about Brexit

BOJ is only plausible candidate to change policy this week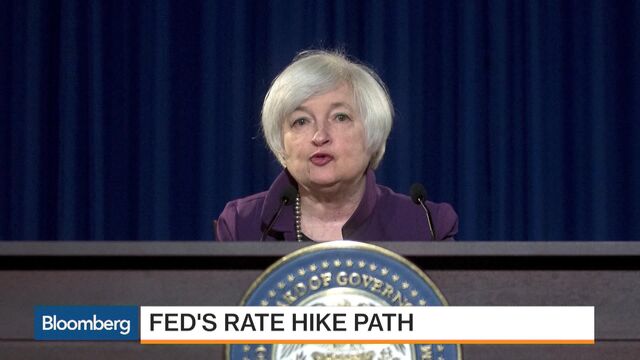 The Federal Reserve kicks off a frenetic two days for some of the world's most influential central banks. It, along with the Bank of Japan, Bank of England and Swiss National Bank set monetary policy this week.
Here's what Bloomberg reporters and editors are watching:
FED: This being a forecasting round, there's a lot more to scour than the standard 2 p.m. statement on Wednesday from the policy making Federal Open Market Committee. There will be economic projections, the famous dot plot and Chair Janet Yellen's press conference. Brexit will be on investors' minds, but that won't be all the Fed is focused on. Strong retail sales numbers Tuesday, coupled with robust job openings and still-low jobless claims make May's disappointing payrolls look like an outlier. 
Were it not for for the June 23 U.K. vote on European Union membership, a June rate hike may have been a much closer call. Watch for whether, and how, the FOMC statement sets up July or September. While there probably won't be a mention of Brexit in the Fed's statement, the upcoming vote is likely to be one of the first questions Yellen is asked. 
Bank of Japan: Probably the only realistic candidate to deliver an actual change in policy this week, though economists are far from united in that forecast. If there is a change at Thursday's meeting, it may be in the size and composition of the BOJ's asset purchases. In other words, expanded QE. Governor Haruhiko Kuroda's shocker decision earlier this year to go negative with interest rates resulted in a stronger -- not weaker -- yen and opened policy makers up to attack in the Japanese parliament and media.
Bank of England: Little to no chance of a policy shift Thursday prior to the June 23 referendum, but watch in the minutes for increasing angst about the impact that a vote to leave the EU would have on the economy and financial markets. The BOE has sounded more dovish as the year has progressed. There may even be a hint of easing if the electorate makes the 'wrong' decision. One policy maker could even vote for an easing Thursday. That might really rattle the pound.
Swiss National Bank: This one has been a bit of a sleeper since abandoning its cap on the franc in January last year. But there's no question President Thomas Jordan will be under scrutiny as June 23 approaches. As Bloomberg's Catherine Bosley and Joshua Robinson have reported, a British vote to leave would practically guarantee a surge in the franc, popular among investors in times of market stress, according to a Bloomberg survey of economists. The SNB will counter that appreciation with more aggressive intervention, the majority of those polled said. How much does the SNB say in advance? Stay tuned.
Coincidentally, Thursday's meeting is one of only two this year with a press conference.
NOTE: Daniel Moss is executive editor for global economics at Bloomberg News.
Before it's here, it's on the Bloomberg Terminal.
LEARN MORE