Exchange-Traded Products Are Making Volatility More Volatile
The growing popularity of these products gives them the power to magnify market moves.
by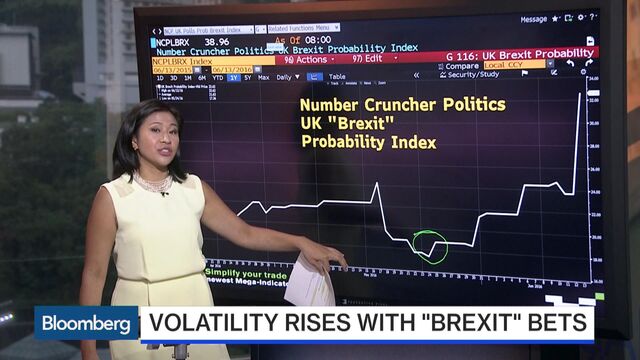 Amid an era of relative market calm, the proliferation of exchange-traded products that give investors exposure to shifts in implied volatility has laid the foundation for outsized swings in the CBOE Volatility Index, commonly known as the VIX.
The VIX, which tracks the implied volatility of the Standard & Poor's 500-stock index over the next month based on at-the-money options prices, rose for its seventh consecutive session on Tuesday after opening the week with a massive advance to near 21 from 17:

Though far from the sole cause, part of the reason for Monday's outsized move was massive demand for VIX futures from leveraged exchange-traded products that offer exposure to changes in implied volatility, according to Macro Risk Advisors Head Derivatives Strategist Pravit Chintawongvanich.
"Leveraged VIX exchange-traded products need to buy VIX futures on days when they are up, and sell VIX futures on days when they are down, creating a 'short gamma' effect," he explained. "The larger the move, the more they need to trade. This can lead to a vicious cycle where a spike in volatility leads to anticipatory buying ahead of the VIX ETP rebalance, in turn pushing up VIX futures and causing a bigger rebalance."
VIX ETPs were forced to buy 42,400 VIX futures on Monday, Chintawongvanich wrote, their largest rebalancing in history:

"Notably, all of the biggest rebalances have happened within the last 2 years," the strategist wrote. "The reason for that is 1) the leveraged VIX ETPs are larger now than in the past (due to inflow into products like XIV, SVXY, TVIX, and UVXY) and 2) VIX futures levels have been low. The combination of big potential VIX moves (from a low base) and large VIX ETP size results in these big rebalances and high vol-of-vol."
When so many buyers of VIX futures are doing this so mechanically — and in such lumpy fashion — it's no surprise that the VVIX index, which tracks the volatility of implied volatility, also went haywire on Tuesday.
The spike in the VIX index may have been sparked by short covering. The most recent Commitment of Traders report showed that large speculative and non-reportable VIX short positions (a proxy for hedge funds and smaller players' positioning) rose to a record high as of June 7, as New River Investments Inc. Portfolio Manager Guillermo Roditi Dominguez observed.
Ultimately, Monday's jump in the VIX index serves as a reminder of what traders learned amid the turmoil last August: the growing popularity of exchange-traded products gives them the power to magnify market moves and influence price action in other asset classes.
This time, at least, the spillovers into the equity market proved to be limited.
Before it's here, it's on the Bloomberg Terminal.
LEARN MORE