China Near-Term Outlook Buoyed as Medium-Term Risks Rise: IMF
Bloomberg News
Services shift, financial liberalization are impressive: IMF

Need to address fast-rising corporate debt imperative: IMF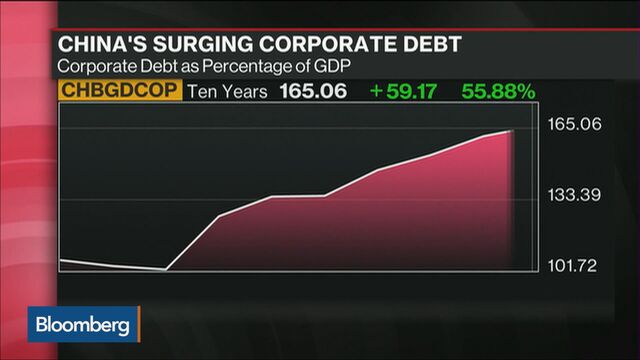 China's near-term economic outlook is being buoyed by policy support even as its medium-term prospects become more uncertain because of rapidly rising credit, excess industrial capacity and financial sector risks, the International Monetary Fund said.
Overall reforms have advanced impressively in areas from shifting to services as a greater driver of growth to liberalization of financial markets, the IMF Deputy Managing Director David Lipton said in a press statement at the conclusion of its annual Article IV review of China's economy in Beijing. Because of a lack of progress reining in credit growth and hardening budget constraints on state enterprises, vulnerabilities are still rising even as the buffers to deal with shocks are eroding, he said.
A plan to address high and fast-rising corporate debt is "imperative" to avoid "serious problems" down the road and a comprehensive plan is needed to harden budget constraints on state enterprises, restructure or liquidate weak firms and recognize and and allocate losses, Lipton said.
On the nation's currency, Lipton said it is broadly in line with fundamentals and is becoming more flexible and market based, he said. He recommended a goal of achieving an effective float within the next couple of years.
"China continues its transition to a sustainable growth path and is making progress on many dimensions of rebalancing," Lipton said. "Yet progress has also been uneven."
Risk Measures
Lipton recommended establishing a group with a clear mandate to implement restructuring of state enterprises and address associated banking risks that would build on plans to cut excess capacity in the coal and steel industries.
On financial sector risks, he said action is required on multiple fronts and he sees the need to address them in a more coordinated way across regulators and markets. He recommended actions including boosting bank buffers and proactively recognizing potential losses.
Lipton said China has made progress improving data and communication policies to markets and the public. He said communications should play a more important role in clarifying policy intentions and reducing uncertainties.
China's policies should be consistent with lowering vulnerabilities and allowing growth to settle at a sustainable level of about 6 percent in 2017, he said. Debt growth needs to slow substantially to stabilize the credit-to-gross domestic product ratio, Lipton said.
— With assistance by Kevin Hamlin
Before it's here, it's on the Bloomberg Terminal.
LEARN MORE