Osborne Warns of Brexit Tax Toll as 'Leave' Gains in Polls
by and
U.K. chancellor to appear with Labour predecessor Darling

ComRes poll shows erosion of 'Remain' support in final days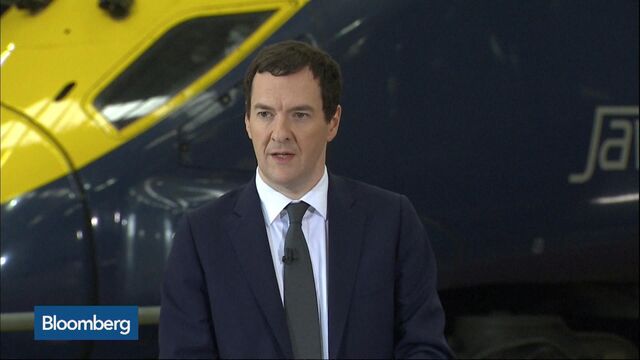 U.K. Chancellor of the Exchequer George Osborne will warn that leaving the European Union could spark a fiscal crisis, as "Remain" supporters battle to turn around a referendum campaign that's slipping away from them.
Brexit Watch: The pound, the polls, and the probability of Brexit, all in one place
Reduced trade and investment would leave a 30 billion pound ($42 billion) "black hole" that would have to be plugged by increased taxes and cuts to spending on health, education and defense, Osborne is set to say in a speech on Wednesday. The increasingly confident "Leave" campaign will meanwhile be talking about its agenda should it win, pledging legislation to restrict free movement and reduce the influence of EU judges, with the goal of negotiating a so-called Brexit by 2019.
While they're talking about the next four years, the focus of both sides is the eight days until the June 23 vote. The goal of "Leave" is to reassure voters that departure from the EU would be swift but controlled. Osborne's aim is to convince waverers that it will hurt.
"Far from freeing up money to spend on public services as the 'Leave' campaign would like you to believe, quitting the EU would mean less money, billions less," the chancellor will say, according to his office. That would mean "an emergency budget where we would have to increase taxes and cut spending."
For more on the potential impact of Brexit on Europe, click here
Osborne's joint appearance with Alistair Darling, his Labour Party predecessor, is a sign of how rattled the anti-Brexit campaign has become, after a slew of opinion polls showed a lead for those wanting to leave the EU.
Markets are showing signs of alarm too: about $2.5 trillion was wiped off the value of global equities in the past week and the pound has tumbled. Still, European equity index futures rallied and most Asian shares rose Wednesday, while sterling was up 0.3 percent as of 8:06 a.m. in London.
The latest poll, published Tuesday evening, contained slightly better news for Osborne and his boss, Prime Minister David Cameron. But the ComRes phone poll for the Sun newspaper still showed momentum is on the other side. It found 46 percent backing "Remain" and 45 percent percent for "Leave," narrowing a gap that had been 11 points a month earlier. Nine percent said they were undecided. Before that, five polls in two days had shown Leave ahead, by between 1 and 7 points.
Elsewhere on the campaign trail: 
The Confederation of British Industry recruited counterparts outside the EU to warn of the dangers to business of leaving the single market
The opposition Labour Party was divided over whether to call for more restrictions to EU migration, with Deputy Leader Tom Watson arguing for a further pledge, and leader Jeremy Corbyn arguing against
The pro-Brexit Leader of the House of Commons, Chris Grayling, told the Financial Times that Britain could stop abiding by EU rules even while it was still a member of the bloc

As "Remain" keeps its focus on the economic risks of Brexit, it is hoping that this week's market turmoil helps to make its point. The S&P 500's Brexit-driven losing streak is the longest since February, while Germany's 10-year bond yields have dropped below zero for the first time amid demand for safe havens. Japan's benchmark government bonds were also at record lows Wednesday, while the yen hovered near a 19-month high. Gold held near its highest level in more than five weeks.
South Korean finance and central bank officials planned to meet Thursday to discuss the impact of the U.K. vote and Federal Reserve decisions. Australian Prime Minister Malcolm Turnbull told reporters in Perth Wednesday that investors were uncertain because it was "possible Britain will vote to leave the EU."
Already Happening
"Look at what's happening on financial markets," Osborne will say in his speech. "The economic uncertainty the 'Leave' campaign blithely insists won't be caused by a vote to Leave is already being seen."
"Leave" campaigners from Cameron's Conservative Party rejected Osborne's threat of further austerity. Practically, it is unlikely he would be chancellor for long if Cameron lost next week's vote. Grayling said he wanted Cameron to stay on as prime minister in the event of a Brexit, but few Tories expect him to last more than a year.
"I am shocked that the chancellor is threatening to break so many key manifesto pledges on which all Conservative MPs were elected," Tory lawmaker Steve Baker said in an e-mail. He said he'd oppose any bid to cut health spending or "increase taxes on hardworking families," and reiterated the "Leave" campaign's promise that more cash would be available for public services outside the EU.
The probability of Brexit has increased to 39 percent from 32 percent last week, according to analysis of polls, betting and forecasts by Oxford University academics Stephen Fisher and Rosalind Shorrocks published on Tuesday evening.
"There has evidently been a significant move in the last few weeks," ComRes Director of Political Polling Tom Mludzinski told the Sun. "The final week will be crucial in deciding this result with both sides trying to motivate their core voters and battling over the final undecideds."
Watch Next: Isaacs Warns Brexit Could Have Lehman-Like Consequences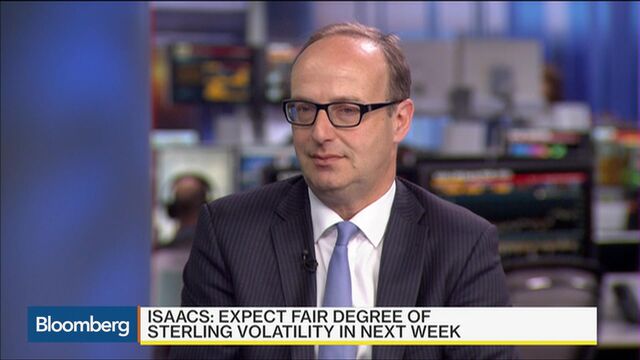 Before it's here, it's on the Bloomberg Terminal.
LEARN MORE