economics
BlackRock, Western Asset Split Over Fed Path as Treasuries Fall
By
U.S. yields near lowest since 2012 as traders see Fed on hold

BlackRock's Rieder sees hike 'as early as this summer or fall'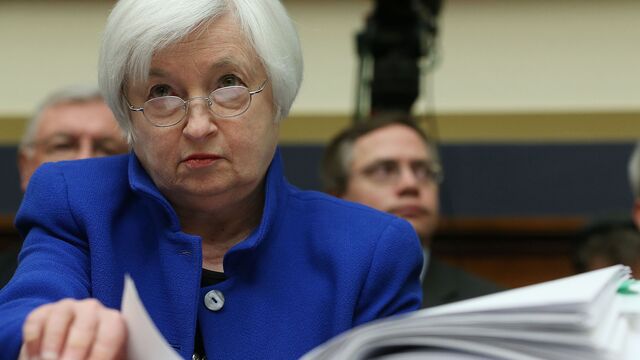 Two of the world's largest asset managers are split in their views of the Federal Reserve's likely interest-rate path as officials take part in a two-day policy meeting.
Wage gains and longer-term labor-market strength will probably let the Fed raise rates "as early as this summer or fall," according to Rick Rieder, chief investment officer of global fixed income at BlackRock Inc., the world's largest money manager. Citing tepid U.S. and global growth, however, Ken Leech, chief investment officer at Western Asset Management, said an imminent rate hike "would be a misjudgment of the situation," adding that it could take as long as five years for short-term rates to reach 2 percent.

Treasury 10-year note yields rose for the first time in six days after closing on Monday at the lowest level since 2012 as traders ruled out a Fed rate hike this week and investors sought safe havens before the June 23 U.K. Brexit vote. More than $8 trillion in negative-yielding sovereign debt worldwide has boosted demand for U.S. securities. Fed Chair Janet Yellen is trying to raise rates even as central banks abroad maintain or increase stimulus, and after the U.S. in May added the fewest jobs in almost six years.
"There are times when the market runs ahead of itself -- we're finally running into a little bit of resistance," said Aaron Kohli, a fixed-income strategist in New York for BMO Capital Markets, one of 23 primary dealers that trade with the central bank. "We've priced in a lot of the Brexit fear already, and I think you're just running out of room without an immediate catalyst."
Treasury 10-year note yields rose less than one basis point, or 0.01 percentage point, to 1.61 percent as of 5 p.m. in New York, according to Bloomberg Bond Trader data. The price of the 1.625 percent security due in May 2026 was 100 3/32.
'Long Overdue'
"Labor-market tightness has allowed for some moderate wage gains and further declines in the unemployment rate, beyond the influence of the declining participation rate," BlackRock's Rieder wrote in a blog post. He called a Fed hike "a move to merely accommodative conditions that is long overdue."
Policy makers won't raise rates unless financial conditions, global economic growth and inflation expectations improve, according to Leech at Western Asset, which manages about $436 billion as of March 31.
"Yellen is one of the more dovish chairs the Fed has had, and has shifted the Fed's focus to risk management," Leech said in a website post Monday. "It's not just that global inflation hasn't stabilized yet, it's that it is still coming down. Japan and Europe are still fighting deflation. This is going to be a very long process."
Record Yields
Concern about global economic growth and political risks has pushed bond yields to unprecedented levels across much of the world, with Germany's 10-year bund yield sliding below zero for the first time and Japan's and Australia's reaching all-time lows.
The Bank of America Corp. MOVE Index, which measures price swings in U.S. debt, climbed to the highest since March 14. The Bloomberg U.S. Treasury Index rose to the highest since it began in 2010.
The 10-year break-even rate, a bond-market gauge of inflation expectations reflecting the difference between yields on nominal Treasuries and equivalent Treasury Inflation-Protected Securities, fell to the lowest since March. The measure shows traders expect a 1.48 percent annual inflation rate over the next decade.
Still, "we actually see inflationary trends rising, and we expect inflation to reach at or over 3 percent by the end of this year or early next year," Michael Hasenstab, manager of the $48 billion Templeton Global Bond Fund, said in an interview on Bloomberg Television at a Morningstar Inc. investment conference in Chicago. "That requires an adjustment higher in yields, either driven by the Fed gradually normalizing rates and pushing yields higher, or the market will do it for them."
Before it's here, it's on the Bloomberg Terminal.
LEARN MORE