Can the Billionaire Class Save a Floundering Art Market?
By
Swiss fair has $3.1 billion of works on view at 47th edition

Gagosian Gallery is taking 140 pieces, priced at $200 million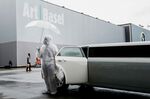 Jackson Pollock's $25 million drip painting and Gerhard Richter's $20 million abstract canvas are expected to lure billionaires, including Paul Allen and Eli Broad, at the world's largest modern and contemporary art fair this week in Basel, Switzerland.

The throng of international collectors is descending on the quiet Swiss town for Art Basel, whose 47th edition opened on Monday with a showcase of gigantic works, including a full-scale Chinese house frame by Ai Weiwei. The fair's main section opens to invited guests on Tuesday. Insurer Axa Art estimates as much as 3 billion euros ($3.4 billion) of art will be on view, the same as last year when 98,000 visitors attended the event.
The stakes are high. Last month's New York auctions fell by more than 50 percent from May 2015 as stock-market jitters unnerved collectors. Sales by galleries and dealers accounted for 53 percent of the global art trade in 2015, according to the annual art market report by the European Fine Art Foundation. Art Basel, which has 286 galleries from 33 countries, is seen as the litmus test of this segment.
"It's a dance around the golden calf," said Hans Neuendorf, a former art dealer and the founder of Artnet, an online research and sales company. "It's all about status, presentation and money."

Gagosian Gallery, the world's biggest by exhibition space, is bringing about 140 works priced at more than $200 million combined, according to preview lists sent to clients. One of the main attractions is Richter's "Prag 1883," an 8-by-8-foot canvas featuring muscular brush strokes on yolk-yellow background. The work is priced at $20 million.
Richter's Stripes
Nearby, another Richter work -- a 36-foot-wide digital print of countless colorful stripes bleeding into one another -- will be a show-stopper at Marian Goodman gallery. The 2015 piece, "930-7 Strip," is priced at 3 million euros.

The 84-year-old German artist will be also represented at Dominique Levy gallery with a 1970 figurative painting, "Bonley Landscape," depicting a misty, mauve mountain range and priced at $13 million.
"When great collectors are presented with great work, they don't want to miss a chance," said Marc Spiegler, global director of Art Basel. "Buying art is about perception and passion regardless of greater socioeconomic conditions. When they see their peers buying, they think: 'Why not me?"'

Dealers are known to save their best works for the fair, which is at once a sales and marketing platform. Mitchell-Innes & Nash is bringing Pollock's 1949 drip painting "Number 21" priced at $25 million. Another work from the same group fetched $22.9 million at Sotheby's in November.
Representatives from 300 private and public museums confirmed attendance, Spiegler said. Each year, about 75 of the top 100 U.S. collectors attend the fair, he said. This year, they'll be competing with a larger Asian presence, a result of the fair's growing Hong Kong show, he said.
Asian Buyers
Asian collectors are "very active," said Wendy Cromwell, a New York art adviser who works with American clients. "I am competing against them. I have been hearing from galleries: 'Oh, this is on hold for an Asian client."'
Having seen more than 100 gallery previews, she said many exhibitors are focusing on "older, established artists where there's a perception of value as opposed to more speculative buying for emerging art."
Metro Pictures gallery will couple new photographs by Cindy Sherman, priced at $275,000 to $400,000, with bronze sculptures by a younger female artist, Camille Henrot, priced at 180,000 euros to 220,000 euros. The outside walls will be lined with 10-foot-wide photo-realist charcoal drawings by Robert Longo, each priced at $500,000.
Galleries are bringing works by artists who had strong performance at auctions in May or are featured in influential exhibitions coinciding with the fair.
Jean-Michel Basquiat, whose canvas fetched $57.3 million at Christie's last month, the most expensive artwork of the May season, is one of them. Van de Weghe Fine Art will have three Basquiat works, priced at $4.4 million to $6 million.
Gagosian also has at least three pieces by the artist known for his graffiti-inspired childlike style. "New Rinso," a black canvas scribbled with white writing and diagrams, is priced at $15 million.
Before it's here, it's on the Bloomberg Terminal.
LEARN MORE