As Greeks Endure More Pain, They Have New Leader-in-Waiting
by , , and
New Democracy party's Mitsotakis speaks in an interview

A second bailout review by October may trigger an election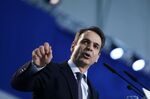 Six Greek prime ministers in six years have wrestled with an economy in shambles, social unrest and the country often on the brink of being dumped out of the euro.
Kyriakos Mitsotakis, leader of the opposition New Democracy party, wants his turn. He says he knows what's in the cards for Europe's most indebted state: Greeks will turn on Alexis Tsipras's government as it implements the labor, property and consumption taxes required to win new financial aid.
"The fall is going to be very difficult for the average Greek," Mitsotakis, 48, whose father led the country in the early 1990s, said in an interview in Athens. "The package is so recessionary that the timid reforms he has put forward won't be enough to push Greece to a sustainable growth path. He's doing some of the unpleasant things, but he's doing the wrong unpleasant things."
As they endure yet another squeeze on their incomes, banks still limiting withdrawals and youth heading for the exit, Greeks are beyond beleaguered. But as they crave a period of political stability to see them through the bailout package agreed last month, the sense is that more upheaval may have to come first.
Tricky Months
Another review of Greece's progress on meeting its bailout conditions is due by October. It's one Tsipras will struggle to survive and another election -- there were two last year alone --- will ensue probably in the first quarter of 2017, Eurasia Group predicted this week. Mitsotakis's New Democracy is ahead in opinion polls by as much as eight percentage points.
"He would be assuming office following a failure of the current government to meet the targets of the bailout program, while economic conditions will have deteriorated and social unrest will have grown," said Panagiotis Pikrammenos, a retired judge who was caretaker premier in May and June 2012. "His job will be very difficult and he would have to speak the truth. Truth hurts, but it is also salutary."

Mitsotakis said he doesn't expect Tsipras to last a term. Just one in 10 Greeks surveyed by Alco said the government is capable of leading the country out of the crisis, according to a poll of 1,000 adults published on Wednesday in Ta Nea newspaper.
With stints at Chase Investment Bank and McKinsey & Co., Mitsotakis plans to complete Greece's economic overhaul, albeit by focusing more on cutting government spending. He promises to put an end to tax hikes and redesign public administration, something Greece has failed to do since the crisis hit in 2010. He would avoid cuts to wages and seek to negotiate less stringent fiscal targets with euro area creditors, in exchange for a "really aggressive" set of structural economic overhauls.
Same Old?
"If he stays ahead in polls through the end of this year, he will create a momentum of victory and establish the perception that he is the next prime minister," said Nikos Marantzidis, professor of political science at the University of Macedonia in Thessaloniki. "The implosion of Tsipras's image is impressive given the fact that we're talking about an 18-month old government. But of course, these are not normal times."
To some extent, Greeks, their creditors and foreign investors have heard it all before after successive governments forced the biggest debt write off in history and signed up to three bailouts worth almost 300 billion euros ($340 billion).
Analysis: Greece's Financial Odyssey
Since ousting New Democracy on a platform of no more austerity in January 2015, Tsipras, 41, stood up to Greece's creditors only to capitulate to their demands and then side-line critics from within his own party. It's sapped grassroots support, though he managed to push through enough fresh austerity to unlock 7.5 billion euros in emergency loans.
Tsipras insists Greece has turned the page. He says the latest deal with creditors will restore confidence in the economy, paving the way to redress the steepest recession since World War II. To keep European creditors onside, though, Greece must maintain a budget surplus before interest payments equal to 3.5 percent of its gross domestic product. It's a target that Mitsotakis, the governor of the Bank of Greece and the International Monetary Fund all say is unattainable.
Jaded Greeks
The greatest concern is that Greeks and creditors alike may lose faith in the country, Mitsotakis said in the interview on June 6. It will then become "a failing economy within the euro zone," he said. "There's a general sense of pessimism in Greece, that this is our destiny, that there's no way out."
More than 14,000 Greeks joined a Facebook group organizing a demonstration on Wednesday against Tsipras's Syriza-led government. The key for Mitsotakis is to translate opposition to Syriza into votes for New Democracy, what independent lawmaker Haris Theoharis calls the need "to move closer to the common man."
"If New Democracy wins the next election, it won't be because of the charm of Kyriakos Mitsotakis, but rather the sense of betrayal of Syriza voters," said Thomas Gerakis, head of Athens-based MARC pollsters. "Mitsotakis is one of the few politicians who speak the truth. But this is something that average voters still find difficult to accept."
Greek Dynasty
Mitsotakis comes from the kind of political dynasty Tsipras said would never again govern Greece. His father was prime minister from 1990 to 1993 and his sister, Dora Bakoyannis, is a former foreign minister and mayor of Athens. He graduated from Athens College, the educator of choice for the Greek elite, including former Prime Minister Antonis Samaras, and headed to Harvard University.
Asked whether that makes him less able to connect with ordinary Greeks compared with Tsipras, Mitsotakis defended his background. "I prefer someone who has two degrees from Harvard and one degree from Stanford to someone who spent 10 years trying to get his degree from the Athens Polytechnic because he was spending most of his time in demonstrations," he said.
Before taking over as leader of New Democracy last year, he served as minister of administrative reform in the Samaras government. It led Greece from the brink of total economic implosion back to the bond markets, but then only to face a crushing defeat by Tsipras.
"Whether we like it or not, Kyriakos is currently the only person who can lead the effort to save the country," said Pikrammenos, who also advised Mitsotakis's father. "When you are a leader, you don't just refurbish the old house. You blow everything up and then you either win or lose the game. I am confident that Kyriakos will do as much, when the time comes"
Before it's here, it's on the Bloomberg Terminal.
LEARN MORE