Why Gay Men Still Can't Donate Blood
The Orlando massacre reignites a 30-year-old controversy.
By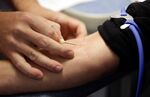 In the aftermath of the shooting at a gay nightclub in Orlando that killed 49 people and injured 53, blood centers were overwhelmed with individuals who wanted to donate. Gay men, however, weren't all allowed to do so—a policy harking back to the height of the AIDS crisis, and one that was quickly derided as discriminatory and an insult to a community under attack.