Volatility Flares in World Markets as Amundi Says Sell on Brexit
By , , and
Global equity selloff extends into third day, pound drops

VIX rises for sixth straight day, longest stretch since August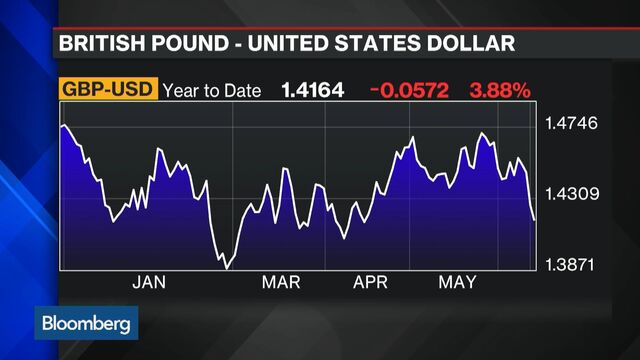 A resurgence in volatility across global markets left investors from Japan to Hong Kong scrambling to sell their riskiest holdings.
Akio Yoshino, chief economist at Amundi Japan Ltd. in Tokyo, said his firm is dumping stocks to buy yen-denominated bonds as so-called fear gauges on Asian shares climb to the highest levels in three months. In Hong Kong, Ken Peng, an Asian investment strategist at Citi Private Bank, is urging clients to protect themselves against equity declines.
Just days after global stocks rose to a 2016 high, mounting concern the U.K. will vote to leave the European Union is spurring a selloff in risky assets. A survey published by the Independent newspaper found 55 percent of voters in favor of a so-called Brexit vote on June 23, a move that economists predict would drive the pound to a three-decade low.

"The Independent's survey on Brexit was shocking," said Yoshino, whose firm oversees the equivalent of $33 billion. "We're moving out of equities and buying yen-based debt -- JGBs, samurai bonds and corporate bonds."
For analysis of the impact of the Brexit decision on the pound, click here.
It's not just Brexit that investors are worrying about. This week sees policy decisions by the Bank of Japan and the U.S. Federal Reserve, as well as MSCI Inc.'s review on whether to add stocks listed in China to its global indexes. The Nikkei Volatility Index soared 25 percent to 32.38 on Monday, its highest level since March 1, as Japan's benchmark stock indexes tumbled 3.5 percent. A similar measure of swings on Hong Kong stocks rose to the highest since March 3 as the Hang Seng Index lost 2.5 percent.
Unhappy Monday
The Stoxx Europe 600 Index slid 1.6 percent Monday, adding to Friday's 2.4 percent tumble, and a gauge of regional equity volatility climbed to a four-month high. The yen strengthened, while the British pound fell to an eight-week low. Government bond yields in Japan, the U.K. and Taiwan dropped to record lows.
"Everything has been hijacked by the U.K. vote," Citi's Peng said by phone. "It's very difficult to convince anyone to have conviction before the vote happens."
The equity selloff began at the end of last week, with the MSCI All-Country World Index sinking 1.4 percent on Friday after the Brexit poll result was published. Short-selling accounted for 47.1 percent of transactions on the Tokyo Stock Exchange on Friday, the most in records going back to 2008, according to bourse data compiled by Bloomberg. While bearish bets slipped to 43.3 percent on Monday, that was still the third-highest proportion in the data.
Buying Treasuries
Gary Dugan, the Dubai-based chief investment officer for wealth management at Emirates NBD PJSC, sold dollar-denominated corporate bonds and bought Treasuries last week as part of its effort to trim holdings that may get hurt by a decline in stocks. The largest bank in the United Arab Emirates is already underweight equities, he said.
"Whether it's Brexit, or people talk about China, or talk about that poor labor market report in the U.S., there's many a reason why we would pull back from that high level on equities," Dugan said.
Even after ending last week with a two-day slide, the S&P 500 Index was within 2 percent of its May 2015 all-time high. Volatility remains far below the levels seen at the start of this year, when a commodity-price collapse roiled global stocks, and in August, when China unexpectedly devalued the yuan. At that time, the Chicago Board Options Exchange Volatility Index peaked at 40.74. Still, its climb to 18.31 in early Monday trading was the sixth straight daily increase, the first time that's happened since the August rout.
Khiem Do, the Hong Kong-based head of multi-asset strategy at Baring Asset Management, which oversees about $35 billion, said the selloff is a signal that fund managers are increasing their cash holdings to prepare for redemptions if the U.K. votes to leave.
"It's pre-emptive selling just in case Brexit does happen," he said. "There's a lot of 'just in case' selling today, particularly in the equity market."