U.S. Investors Are More Worried About Brexit Than a Summer Fed Hike or the Presidential Election
by and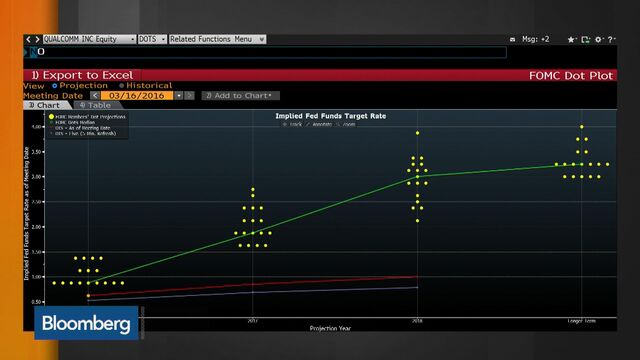 Time to focus on the news across the pond rather than headlines from Washington, D.C. 
According to a new note from Goldman Sachs Group Inc. analysts led by Krag Gregory, options in the S&P 500 are pricing in more risk around the U.K. leaving the European Union than the Federal Reserve's interest rate decision later this week. 
"Excess hedging demand around specific expirations can create identifiable 'kinks' in the term structure of implied volatility," the analysts write, referring to the "hump" in the term structure for options that expire shortly after this month's vote, which has become much more pronounced since Thursday. "The SPX term structure is pricing the FOMC meeting as a non-event but a kink in the curve does appear around the U.K. referendum on June 23."
The implied volatility term structure generally slopes upwards, as the odds of an occurence that changes the market landscape for investors tends to rise the further your time horizon extends.
Here's a chart of the usual trend Goldman is talking about:

Of course, there might simply be less volatility around the June Fed decision because most people don't expect Yellen and team to make any changes to interest rates. 
But this relative calm doesn't just have to do with this week's Fed event. Implied volatility for options that expire after the Federal Reserve's July meeting are subdued compared to those that encompass the immediate aftermath of the U.K.'s referendum. Even the U.S. election in November isn't inspiring as much fear as a possible Brexit — yet.
Bloomberg projections show there is a 24 percent chance of Brexit. A number of markets are seeing a big swings ahead of the vote, with the volatility in the British pound/U.S. dollar pair hitting its highest level since the global financial crisis. 

While the last few months have been relatively tame in the market, Goldman doesn't see this continuing. "Even if the Fed turns more dovish, soft fundamental data and uncertainty surrounding 'Brexit' seem to be capturing the market's attention."
On Monday afternoon, the CBOE Volatility Index rose to as much as 20.56, its highest level since Feb. 29.
Before it's here, it's on the Bloomberg Terminal.
LEARN MORE