Trudeau Says Second Canadian Hostage Likely Slain in Philippines
Theophilos Argitis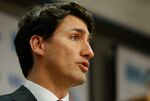 The Canadian government believes a second hostage held by militants in the Philippines is dead, Prime Minister Justin Trudeau said.
"It is with deep sadness that I have reason to believe that a Canadian citizen, Robert Hall, held hostage in the Philippines since September 21, 2015, has been killed by his captors," Trudeau said in a statement Monday.
Hall was kidnapped alongside fellow Canadian John Ridsdel, whose death was announced April 25. At the time, Trudeau said Canada has a policy not to pay ransom -- a point he reiterated Monday.
Before it's here, it's on the Bloomberg Terminal.
LEARN MORE