Rutte Leaves Door Open to Dutch Coalition With Geert Wilders
Corina Ruhe and Celeste Perri
Premier says traditional parties failed to heed voter concerns

'When it got hot' in last coalition, Wilders 'ran away:' Rutte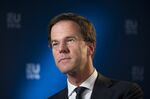 Dutch Prime Minister Mark Rutte said that he wouldn't rule out governing with anti-Islam Freedom Party leader Geert Wilders, as he acknowledged a collective failure by traditional parties to adequately respond to voter concerns.
Rutte, 49, who faces Dutch parliamentary elections in the spring, said that parties such as his own bear responsibility for the changing political landscape across Europe, feeding voter resentment that has been capitalized on by populist movements from the Netherlands to Austria.
"Somehow, earlier this century, we have not addressed the worries of the population," the premier said in an interview in Amsterdam Monday. "That's something that we have to accept and now we have to work with that."
Amid concerns about refugees and a sluggish economy, populist sentiment has swept across Europe. Voters in Austria nearly elected an anti-immigration nationalist as president, Marine Le Pen's euro-skeptic National Front placed first in the initial round of French regional elections and the U.K. is holding a referendum on European Union membership. In the Netherlands, latest polls show the Freedom Party and Rutte's pro-market Liberals running neck-and-neck.

For more on the impact of Dutch populist forces, click here
The rise of Wilders's party, the Alternative for Germany and others "has happened because the traditional parties have let it happen," Rutte said. "It was my party," plus the Christian Democrats and the Social Democrats, which failed to prevent the rise of the Freedom party, he said.
To be invited to join any cabinet, Wilders would have to retract his demand for fewer Moroccans in the country, Rutte said. The Freedom Party leader made the comments in 2014 after local elections and is being prosecuted over them in a Dutch court. Rutte added that all the other Dutch parties have sworn to rule without Wilders, making the chance of his joining a coalition "slim." For his part, Wilders in January said he wouldn't rule with Rutte because the premier has "given Holland away."
The prime minister, currently on track to be the only Dutch prime minister to finish a four-year term in almost two decades, said he will decide by September whether he wants to lead his party's ticket again in 2017. Rutte has led the country since 2010 -- his first cabinet was dissolved due to disputes with the Freedom Party, an experience that makes him reluctant to work with Wilders again.
"When it got very hot, we had to take very difficult decisions, he ran away," Rutte said Monday. "So obviously, I am not overly excited to try again."
Before it's here, it's on the Bloomberg Terminal.
LEARN MORE