Record German Yields Seen Short-Lived as Economists Predict Jump
by , , and
Yield on 10-year bunds predicted at 0.24% by end of June

Benchmark yield dropped to all-time low of 0.009% on Friday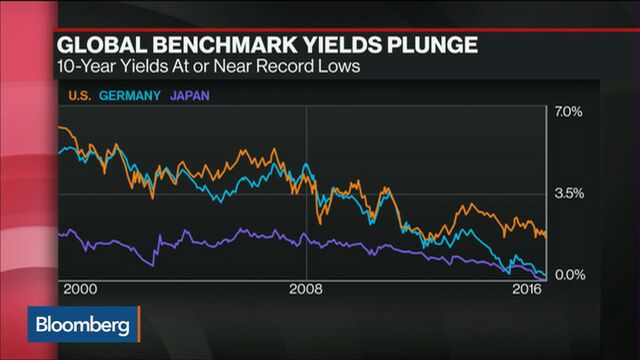 Germany's 10-year bond yields are set to climb from the all-time low reached last week, according to economists surveyed by Bloomberg.
Benchmark yields fell to a record 0.009 percent Friday. While economists have reduced their year-end yield estimates since January, they don't foresee that level as sustainable. The median forecast of 19 economists in a Bloomberg survey is for the yield to climb to 0.24 percent by June 30, while just six predict it will be at 0.1 percent or below.

Sovereign bonds globally have rallied this year, driving yields to record lows. Mounting political risks, including Britain's June 23 European Union referendum, an increasingly bleak global economic outlook and central-bank support are spurring demand for the relative safety of government debt. The drop on Friday left the German 10-year bund yield within one basis point of turning negative and joining about a third of the $25.3 trillion of securities in the Bloomberg Global Developed Sovereign Bond Index that yield below zero.
Negative yields are like "a supernova that will explode one day," Bill Gross, the manager of the $1.4 billion Janus Global Unconstrained Bond Fund, said in a tweet on June 9, echoing a similar warning from last year that presaged a more-than one percentage-point surge in Germany's 10-year yield.
Yield Forecast
Yields on 10-year bunds are now no longer forecast to surpass 1 percent before the fourth quarter of 2017, according to the June survey. This was the level economists predicted for the end of 2016 as recently as January. The year-end forecast is at 0.5 percent in the current survey.
For the survey results, click here.
Germany's 10-year bund yielded 0.02 percent as of 7:36 a.m. London time. The price of the 0.5 percent security due in February 2026 was 104.67 percent of face value.
German government bonds are in "bubble territory" and Allianz SE plans to raise its corporate debt holdings, according to Chief Investment Officer Andreas Gruber.
"Allianz never really was a strong investor in German government bonds," said Gruber, who oversees 638 billion euros ($719 billion) of investments. "There always were plenty of better alternatives in the sub-sovereign, corporate and non-euro-denominated fixed income markets."
Before it's here, it's on the Bloomberg Terminal.
LEARN MORE