Rajoy's Stammering Graft Response Weakens Pitch to Spaniards
by and
Acting Prime Minister defends record on managing economy

Televised debate gives voters chance to compare candidates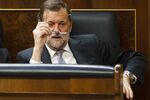 He knew it was coming, but still there was nothing he could do about it.
When the Spanish Socialist candidate Pedro Sanchez attacked Acting Prime Minister Mariano Rajoy with the corruption allegations that have engulfed his party in a televised debate on Monday night, Rajoy froze. In the glare of the studio lights, the prime minister's mouth moved, but no words came out for three, four, five seconds.

"Really, Mr. Sanchez, I don't know what you want me to say," he blurted out eventually.
More barbs came Rajoy's way in the course of the two-hour debate. Ciudadanos leader Albert Rivera reeled off a greatest hits of allegations against the prime minister -- his SMS of support to a disgraced former treasurer, the handwritten ledgers showing Rajoy received more than 300,000 euros ($340,000) from a secret party slush fund. He wound up with an appeal to Rajoy to step aside and let a new leader with a clear record take the country forward.
Sanchez, Rivera and Pablo Iglesias of the anti-establishment group Podemos are competing to oust Rajoy in Spain's June 26 election after a vote in December failed to produce a clear winner. Rajoy sought to blunt the attacks on his party's ethics record and stressed his record on the economy, pledging to bring 2 million more Spaniards back into work.
"Spain is not a corrupt country -- we defeat it with law and punishment," he said. "I led the first democratic government in Spain that presented a package of laws against corruption and you voted absolutely against it." Rajoy said the allegations against him were false.
Change in Spain
The debate itself was a symbol of how Spanish politics has changed over the past six months. In the last campaign, Rajoy refused to debate with anyone except the Socialists, his party's traditional rival for power. On Monday night, he went toe-to-toe with Iglesias and Rivera as equals.
It was Iglesias's pledge to help the poorest and tackle economic inequality that proved most compelling for readers of El Pais, the country's leading newspaper. Thirty-eight percent saw the Podemos candidate as the winner, compared with 24 percent for Rajoy and 23 percent for Rivera, according to an online survey of 94,000 people. El Mundo's readers saw Rajoy as the winner with 35 percent to Iglesias's 29 percent. Neither survey was weighted to match the profile of the electorate.
With Rajoy at risk of losing more seats just six months after posting his party's worst general election result in more than 25 years, his rivals sparred to position themselves as his successor.
Iglesias challenged the Socialist Sanchez to commit himself to a progressive alliance; Sanchez blamed Podemos for lining up alongside Rajoy to block a Socialist-led government in March; the liberal Rivera trained his fire on both Rajoy and Iglesias in a bid to consolidate his space in the political center ground.
"In Spain, of course, there is no tradition of forming coalitions," Dutch Prime Minister Mark Rutte said in an interview in Amsterdam on Monday. "After the next elections they somehow will have to."
Rutte said the Dutch tradition of governing in coalition, like the Belgians and the Germans, might help the Spanish leaders to reach a compromise after the election and said he's willing to engage with them if that would be useful.
'The Wrong Adversary'
Rajoy's PP is set to slip to 118 seats from 123 in December, according to an average of pools calculated by Electomania. Podemos may jump to 87 seats from 71, while Ciudadanos may get 41 seats, one more than in December. The Socialists would be the biggest losers, shedding 8 lawmakers to 82.
As Sanchez urged progressive voters to ditch Podemos in favor of the Socialists, a split screen showed Iglesias shaking his head, looking down at his lectern.
"You've got the wrong adversary, Pedro," Iglesias said. "You've got the wrong adversary."
For sure, five months ago Iglesias offered to support a Socialist-led government. This time, Podemos may claim second place, forcing Sanchez and his supporters to decide whether to support their traditional enemy, the PP, or their new foe on the left.
No Place for Interns
Rajoy had set out to turn his age into a virtue as he tried to beat back the new generation. The 61-year-old premier sought to paint his three election rivals -- all in their 30s and 40s -- as callow youths without the experience to run a country.
"You don't come here to do an internship," Rajoy said. "Governing is very difficult, preaching is very easy."
Less than an hour later, he was jabbing his finger angrily at Rivera as the Ciudadanos leader held up a poll showing that a majority even of PP voters want to see Rajoy step aside to allow the parties to broker a governing coalition.
As the other leaders went to greet the moderators at the end of the debate, the prime minister stood alone at his lectern for a few moments, gathering up his papers.
Before it's here, it's on the Bloomberg Terminal.
LEARN MORE